At least 14 people were wounded following a shootout during a funeral in Chicago's Gresham neighborhood this evening, police said during a press conference.
Witness Arnita Gerder said at the scene, "All we saw was just bodies laying everywhere. Shot up everywhere, all over. Legs, stomach, back, all over the place. We thought it was a war out here."
First Deputy Eric Carter addressed the media following the incident and said that the victims were brought to five different hospitals. He They asked if anybody had video of the incident to come forward.
Carter said that everybody fled in different directions but they have one person of interest in custody.
From NBC5:
"We saw a car with about six bullet holes in it and it was turned facing the grass like he lost control. We saw a hat down on the ground and evidently it was his," Kenneth Hughes, another witness at the scene, said.
Hughes and Gerder added that everyone who was shot appeared to be wearing white.
"Unfortunately it appears like it was planned because as the people were coming out of the funeral home, then the shots rang out like they were literally waiting on them to come out," Hughes said.
The incident comes just hours after Chicago Mayor Lori Lightfoot confirmed that federal agents are being sent to the city to curb violence, but the city doesn't "see a Portland-style deployment coming."
Lightfoot said that, as of now, the Trump administration will not be deploying "unnamed agents" to Chicago's streets.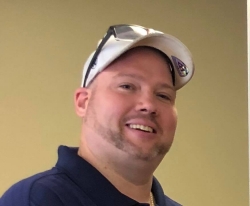 Latest posts by David Caron
(see all)