Arizona GOP State Sen Wendy Rogers came to Florida GOP Gov. Ron DeSantis' defense and said what many conservatives are thinking after U.S. House Rep Alexandria Ocasio-Cortez (D-NY) was spotted in the Sunshine State and responded to criticism by pushing a conspiracy theory that DeSantis was "missing."
Rogers declared in a tweet, "@AOC is a monster, hitting @RonDeSantisFL for being 'missing' over the holidays."
"He was with his wife for her cancer treatments. Go back to New York," Rogers told the sophomore Congresswoman.
.@AOC is a monster, hitting @RonDeSantisFL for being "missing" over the holidays. He was with his wife for her cancer treatments. Go back to New York.

— Wendy Rogers (@WendyRogersAZ) January 1, 2022
Fox News reported yesterday that according to a DeSantis spokesperson, DeSantis accompanied his wife, Casey, to cancer treatment Dec. 29, which is the day several left-wing critics accused the governor of "missing."
Ocasio-Cortez responded to Team DeSantis in a quote tweet, "Hasn't Gov. DeSantis been inexplicably missing for like 2 weeks?"
"If he's around, I would be happy to say hello. His social media team seems to have been posting old photos for weeks. In the meantime, perhaps I could help with local organizing. Folks are quite receptive here :)," Ocasio-Cortez added sarcastically.
Last night, however, DeSantis also appeared in person at a New Year's Eve "Let us worship" event in Miami at Miami Baptist Church.
Yesterday, Twitter user "Defiant L's" unearthed a September tweet where Ocasio-Cortez criticized U.S. Sen Ted Cruz (R-TX) for having previously left his state with his family during a massive power outage from a winter storm.
In the tweet, Ocasio-Cortez insisted that she "actually gives a damn" implying that she wouldn't do something like that, however, it has been pointed out that Ocasio-Cortez is in Florida despite the fact that COVID cases are soaring in New York City, where she represents
Many on the left are also attempting to suggest that DeSantis should be making more public appearances as COVID cases rise in Florida, but don't seem to be concerned that Ocasio-Cortez has left her state.
December 31, 2021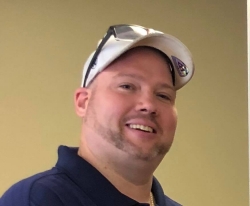 Latest posts by David Caron
(see all)