When Democratic presidential nominee Joe Biden and his wife, Dr. Jill Biden, stopped in Miami, Florida for a campaign event recently, the couple visited the Little Haiti Cultural Center where they were greeted by Democratic House Rep. Frederica Wilson.
Wilson decided to live-tweet the presidential debate last night and most of her tweets were fairly mundane but one that is catching a lot of attention is when she attempted a dig at President Trump by saying, "Who prepays taxes?" The tweet has now been deleted, but we have a screenshot.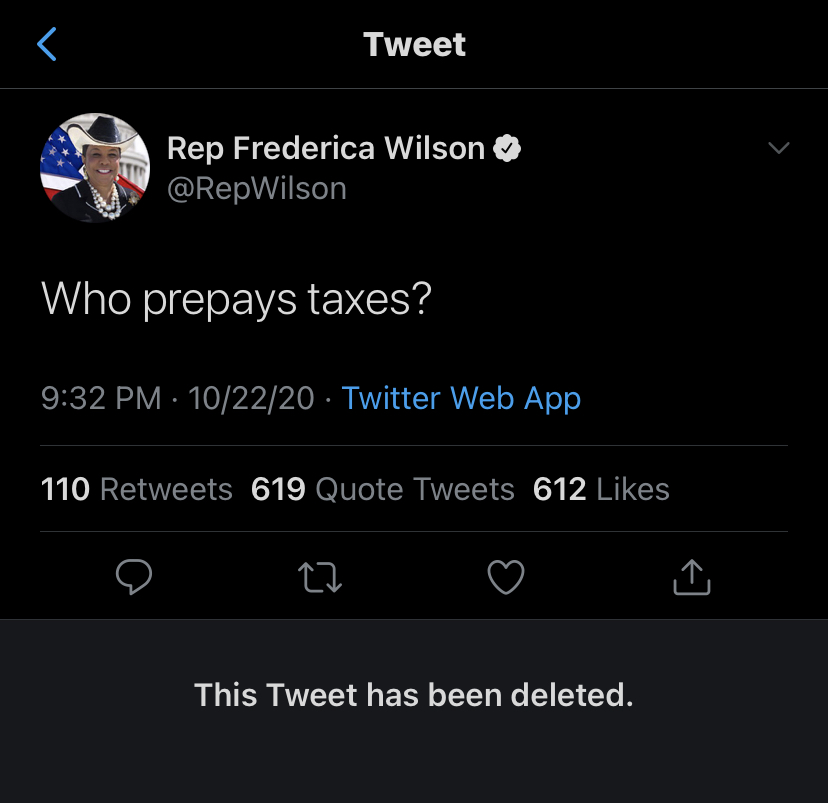 As CNBC points out, Trump isn't the only one who's "prepaid" his taxes, millions of other Americans have, as well.
During the debate, Trump said, "I asked them a week ago," referring to his accountants. "I said, 'What did I pay?' They said, 'Sir, you prepaid tens of millions of dollars.' I prepaid my tax," he added.
Conservative activist Mark Dice responded to Rep. Wilson, "All businesses do, Congresswoman. It's called Quarterly Taxes, paid every three months based on the previous year's revenue. Moron."
All businesses do, Congresswoman. It's called Quarterly Taxes, paid every three months based on the previous year's revenue. Moron. https://t.co/jbbVXd3Gxy

— Mark Dice (@MarkDice) October 23, 2020
Conservative TV host John Cardillo called the Congresswoman "Stone cold ignorant of the laws she's tasked with passing and funding."
Stone cold ignorant of the laws she's tasked with passing and funding. https://t.co/ZhkXbXyxYf

— John Cardillo (@johncardillo) October 23, 2020
FYI TV host and restaurant owner Chef Andrew Gruel lamented, "As an LLC owner, I take distributions as payment and must pre-pay my taxes quarterly. Was this a poll or a complete misunderstanding of the tax system?"
As an LLC owner, I take distributions as payment and must pre-pay my taxes quarterly. Was this a poll or a complete misunderstanding of the tax system? https://t.co/SgRQtS8FYm

— Chef Andrew Gruel (@ChefGruel) October 23, 2020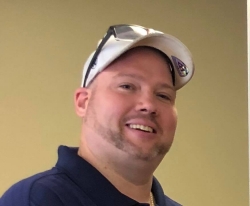 Latest posts by David Caron
(see all)