Yesterday, the closing arguments were presented in the trial of former police officer Derek Chauvin, who is being charged with murder in the death of George Floyd, who was in his custody.
House Speaker Nancy Pelosi (D-CA) tweeted out regarding the trial and said, "Today is a solemn day as the closing arguments are presented in the George Floyd murder trial."
"I commend the Floyd family for their dignified calls for justice, which were heard around the world. Let us be prayerful that the truth will prevail & will honor George Floyd's memory," Pelosi added.
Many Democrats who responded appreciated her words, but some woke liberals took issue with Pelosi's use of the phrase "George Floyd murder trial."
One user, Eddie, who has his pronouns in his bio, told Pelosi, "Madam Speaker, with all due respect, this is the Derek Chauvin murder trial. It's an important distinction."
Madam Speaker, with all due respect, this is the Derek Chauvin murder trial. It's an important distinction.

— Eddie (@torque) April 19, 2021
Another Twitter user, Debbie, who let's users know she rescued a poodle in her bio, chastised Pelosi and said, "George Floyd isn't on trial. It's the Derek Chauvin murder trial for killing George Floyd."
George Floyd isn't on trial. It's the Derek Chauvin murder trial for killing George Floyd.

— Debbie (@MrsWormdog) April 19, 2021
A Twitter user who describes themselves as "most definitely NOT a member of the rcmp [Royal Canadian Moutain Police] or any law enforcement agencies" corrected Pelosi and let her know that "words matter."
George Floyd is not on trial. Derrick Chauvin is.
Words matter

— NotRCMP (@def_not_rcmp) April 19, 2021
The most liked response, however, belonged to one Twitter user who suggested, "I think we are honoring the wrong types of people in this country. What happened to Floyd was terrible but I don't think he deserves us to honor him. A 7 year old little girl was shot yesterday in Chicago in a Mcdonalds drive thru, honor her instead she deserves it."
I think we are honoring the wrong types of people in this country. What happened to Floyd was terrible but I don't think he deserves us to honor him. A 7 year old little girl was shot yesterday in Chicago in a Mcdonalds drive thru, honor her instead she deserves it.

— K4343 (@klk723102) April 19, 2021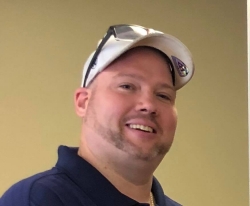 Latest posts by David Caron
(see all)