Civil rights attorney Leo Terrell stood up for Justice Clarence Thomas after actor Samuel L Jackson directed a racially motivated tweet at him.
As we previously reported, Jackson asked in a tweet, "How's Uncle Clarence feeling about Overturning Loving v Virginia??!!"
"Uncle Clarence" is likely a derogatory reference to the literary character "Uncle Tom," a slave character often associated with submission to a White ruling class and a slur often used by liberals towards black people who don't share their political beliefs.
Loving v. Virginia was the civil rights case that deemed interracial marriage bans unconstitutional and Thomas is in an interracial marriage with Ginni Thomas.
In a quote tweet, Terrell shot back, "Foolish tweet. Stick to bad acting. You are not a lawyer!"
Foolish tweet. Stick to bad acting. You are not a lawyer! https://t.co/PzO6hXW8Mw

— TheLeoTerrell (@TheLeoTerrell) June 25, 2022
In September of 2020, while guest-hosting Jimmy Kimmel's show, Jackson took a shot at Trump supporters.
Jackson asked at the time, "Who can still be voting for this guy after all the stuff that has gone down on his watch?"
Later, Jackson added, "The fact of the matter is that Donald Trump is dangerous for our country" before he cut to a spoof Trump campaign ad detailing the "common" and "possible side effects" of voting for the then-president.
The "common side effects" included "racism, sexism, nepotism, corruption, collusion, xenophobia, homophobia, islamophobia, antisemitism, hypocrisy, delusion, gullibility, paranoia, fascism, greed, rage, hate, fear, and mullets."
"Other possible side effects" included "destruction of the economy, the Constitution, the ecosystem, the idea of truth, the post office, and basic human decency."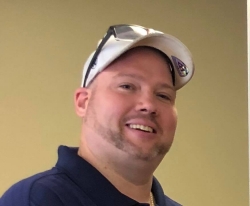 Latest posts by David Caron
(see all)