America first conservative Mark Lombardo dropped an ad recently where he questioned if his primary opponent U.S. Congressman Matt Gaetz (R-FL) was the Mar-a-Lago rat.
The ad begins, "When Donald Trump really endorses someone, he goes big. You've seen none of that from lyin' Matt Gaetz."
"What does Trump know? Is Gaetz the informant? Gaetz hired Jeffrey Epstein's attorney. Another Epstein attorney approved the raid on the house," the ad continues.
The ad concludes (along with attribution to Lombardo), "Remember Gaetz pressured Trump to give him a pardon but Trump said no. Matt Gaetz puts himself first, ahead of Trump and ahead of you."
An "ad intelligence" provider, CMAG shared the ad in a tweet and noted:
"Today on TV – [#FLCD01] Mark Lombardo suggests that Rep Matt Gaetz may have connections to the recent FBI raid on Mar-a-Lago, arguing that both Gaetz and the FBI raid were connected to 'Epstein Attorneys'."
"Lombardo's campaign wisely stops short of explicit accusations and instead 'asks' whether or not Gaetz COULD be the informant. Still, that's a pretty serious question to be asking given the evidence (or lack thereof) presented in the ad."
"The FL 1st district primary gets mentioned here fairly often. Both Gaetz and Lombardo have aired ads leaning on shock and drama – truly, campaigns built for twitter. Whether this is the future of pol campaigns or just a blip on the radar remains to be seen. Picked up in Mobile."
Gaetz's campaign issued a response to the ad, insisting that "President Trump has endorsed Congressman Gaetz, has praised him profusely as recently as 10 days ago at CPAC, and is sending his son Don Jr. to Pensacola to campaign for Gaetz."
"Mark Lombardo's campaign lacks events, supporters, energy, and truthfulness. His defeat next Tuesday will leave him a million bucks poorer and rightfully humiliated."
The Pensacola News Journal reported that Lombardo has been running a series of negative attack ads over the last several weeks on television blasting Gaetz and has spent more than $340,000 so far, according to campaign finance reports.
Today on TV –

[#FLCD01] Mark Lombardo suggests that Rep Matt Gaetz may have connections to the recent FBI raid on Mar-a-Lago, arguing that both Gaetz and the FBI raid were connected to 'Epstein Attorneys'. pic.twitter.com/EXtqxWEyeL

— CMAG (@CMAGadfacts) August 16, 2022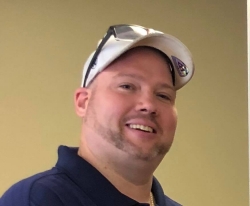 Latest posts by David Caron
(see all)