We updated an article last week about C-SPAN Political Editor Steve Scully, who was supposed to be the moderator of the now-canceled second presidential debate after the network claimed that his Twitter was hacked.
Today, C-SPAN has suspended Scully indefinitely after he confessed yesterday that he lied about his Twitter account being hacked. The news came on the day of what was supposed to be a career highlight for the 30-year veteran of the network.
The issue started when President Trump called Scully a "nevertrumper" on Sean Hannity's Fox News show. We had previously reported that Scully had written an op-ed before the 2016 election where he said he didn't want to Trump to ever be president.
Not long after, Scully tweeted out to former White House Communications Director Anthony Scaramucci, "should I respond to trump."
Scaramucci responded to his tweet, saying, "Ignore. He is having a hard enough time. Some more bad stuff about to go down."
The AP reported that Scully said that when he saw his tweet had created a controversy "I falsely claimed that my Twitter account had been hacked."
He claimed that he had been frustrated by Trump's comments and several weeks of criticism on social media and conservative news outlets about his role as moderator, including attacks directed at his family.
Scully said, "These were both errors in judgment for which I am totally responsible for. I apologize."
He said he let down his colleagues at C-SPAN, fellow news professionals, and the debate commission and asked "for their forgiveness" as he tries "to move forward in a moment of reflection and disappointment" in himself.
C-SPAN said that Scully "Understands that he made a serious mistake. We were very saddened by this news and do not condone his actions," but the network insisted that "After some distance from this episode, we believe in his ability to continue to contribute to C-SPAN."
Frank Fahrenkopf, a co-chairman of The Commission of Presidential Debates, first made the hacking claim to Fox News Radio's "The Brian Kilmeade Show" last Friday morning, but they have no comment yet on the situation.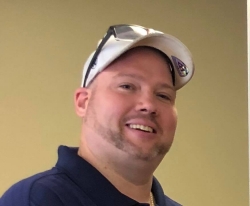 Latest posts by David Caron
(see all)