Recently the bombshell news broke that Steve Scully, 'NeverTrumper' who was going to be the debate moderator for the canceled debate that was going to be tonight apparently lied about being hacked. This was after he tweeted a bizarre message to Anthony Scaramucci, also a known Trump hater, asking how he should respond to President Trump after reported attacks on his credibility.
Joe Lockhart, former White House Press Secretary for Bill Clinton supported him, as did some news outlets, although Fox News reported that Scully had a history of claiming he got hacked. Now that Scully has admitted to lying and is indefinitely suspended by CSPAN, Joe Lockhart has massive egg on his face.
We took the liberty of screenshotting the tweet in case it gets deleted in the near future, where Lockhart is getting massively wrecked in the comments.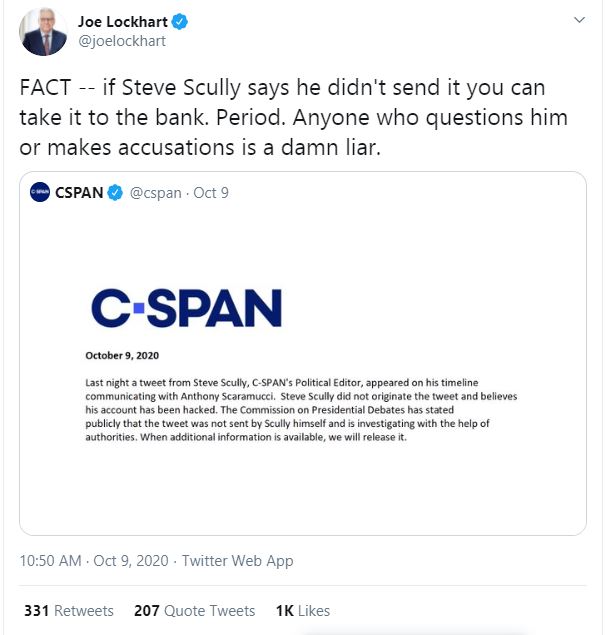 Will you be deleting this? Were you hacked perhaps?

— Media Right News (@MediaRightNews1) October 15, 2020
We reached out in a tweet of our own, asking Lockhart if he will be deleting his tweet. Perhaps he will recant? It's hard to say for sure. One thing that is definite, Scully has really screwed the pooch so to speak, putting egg on the face of Lockhart and anyone else who defended him, and potentially botching the legitimacy of an important presidential debate.
While the debate was canceled over 'Covid-19' safety fears and President Trump snubbed a virtual debate offer, Trump had tested negative at least twice before the debate was supposed to happen, leaving many to question why it was canceled to begin with, as voting is already taking place in many states.
John Roberts of Fox News said he asked Steve Scully if he was actually hacked recently and Scully said yes. The end result determined that to be a lie. Roberts also said recently on Fox that he thinks its good the debate was canceled because if it wasn't and this news came out before the debate that was going to be tonight it would have been a lot of "cow feces".
Just moments before we reported in part:
We updated an article last week about C-SPAN Political Editor Steve Scully, who was supposed to be the moderator of the now-canceled second presidential debate after the network claimed that his Twitter was hacked.
Today, C-SPAN has suspended Scully indefinitely after he confessed yesterday that he lied about his Twitter account being hacked. The news came on the day of what was supposed to be a career highlight for the 30-year veteran of the network.
The issue started when President Trump called Scully a "nevertrumper" on Sean Hannity's Fox News show. We had previously reported that Scully had written an op-ed before the 2016 election where he said he didn't want to Trump to ever be president.
Not long after, Scully tweeted out to former White House Communications Director Anthony Scaramucci, "should I respond to trump."
Lockhart as of now has not tweeted any apology for calling people liars for accusing Steve Scully of what he has admitted to. The most recent tweet from him? Trashing NBC for the sin of actually holding a town hall with President Trump. GASP!
Separate and apart from the journalistic ethics question for @nbcnews, there is empirical evidence that the more undecided voters see of Trump, the more they move to the Biden camp. So i hope at least some of them are watching tonight. Nothing excuses NBC on caving to Trump tho

— Joe Lockhart (@joelockhart) October 15, 2020
Trump Jr. Recently took to Twitter to slam Scully and perceived bias, saying the fix was in.
"The fix was in. He should be fired and the debate commission should be disbanded. Did the debate commission do anything to confirm that he was hacked or did they just go along with it because it was convenient? Anyone with a brain knew that it was bullshit.", says the president's son. See tweet:
The fix was in. He should be fired and the debate commission should be disbanded. Did the debate commission do anything to confirm that he was hacked or did they just go along with it because it was convenient? Anyone with a brain knew that it was bullshit. https://t.co/TxA4cWxoK5

— Donald Trump Jr. (@DonaldJTrumpJr) October 15, 2020
Latest posts by Ian MacDonald
(see all)