As many around the country have called for President Trump to concede the presidential race, Democratic challenger Christy Smith has refused to concede to House Rep. Mike Garcia in a California Congressional race even though Garcia declared victory on Friday as his lead grew.
We reported on Tuesday that Garcia's lead was estimated to be at 422 votes and after more votes were counted and released on Friday, the lead grew to 446 votes.
Another update showed that after LA County added 2,032 votes that broke 51.1%/48.9% for Smith, it cut the margin by 46 votes to a new lead of 400 even for Garcia.
Cook political reporter Dave Wasserman indicated that was "positive news" for Garcia and that Smith "would now need to win ~58% of the remaining 2,600 or so (?) ballots."
Positive news for Rep. Mike Garcia (R) in #CA25. Christy Smith (D) would now need to win ~58% of the remaining 2,600 or so (?) ballots to erase her 400 vote deficit. https://t.co/fjrQ8Y5DPQ

— Dave Wasserman (@Redistrict) November 21, 2020
Garcia issued a statement, thanking Smith for a great race, and said, "After a long, tough fight, I am proud to earn the privilege of serving CA-25 for another two years. With only a few remaining ballots to be counted, victory is clear."
My statement on election results: pic.twitter.com/qehimJtler

— Mike Garcia (@MikeGarcia2020) November 21, 2020
Smith however, wasn't ready to give up and tweeted out, "Patience is a virtue."
Patience is a virtue.

— Christy Smith (@ChristyforCA25) November 21, 2020
In a statement of her own, Smith said, "Mike Garcia's declaration of victory is dangerous to our democratic process. With a mere 400-vote margin and thousands of ballots outstanding, election officials are diligently working to process ballots and accurately count all outstanding votes to ensure our communities are heard, and this race remains too close to call."
Earlier today, the LA Public Health issued a statement that they were modifying health officer order to restrict dining at restaurants, breweries, wineries, and bars amid surge in COVID-19 cases.
LA Metro reporter Julia Wick explained that meant that according to their statement, LA County was announcing a shutdown of in-person dining for the next 3 weeks, at minimum.
Restaurants, breweries, wineries, and bars will only be able to offer take-out, drive-thru, and delivery services, effective Wednesday night.
L.A. County announces a shutdown of in-person dining for the next 3 weeks, at minimum.

Restaurants, breweries, wineries and bars will only be able to offer take-out, drive thru and delivery services, effective Wednesday night. https://t.co/wvSU5v3RoJ

— Julia Wick (@sherlyholmes) November 22, 2020
Garcia called out the restrictions and said, "CA politicians calling for additional restaurant closures and curfews is a sign of weak leadership! When will our local and state officials have the courage to realize lockdowns hurt us more than help us?"
He took it a step further and called for the local authorities to "Open schools, open restaurants, social distance and take real measures to prevent the spread. Quarantine the sick and vulnerable…Don't cannibalize our entire economy and society!"
to prevent the spread. Quarantine the sick and vulnerable…Don't cannibalize our entire economy and society!

— Mike Garcia (@MikeGarcia2020) November 23, 2020
Smith criticized the message and said, "It's so easy to be in the minority – you rail against everything and take responsibility for nothing. How much loss of American life is acceptable to you? And what the hell are you doing about it?"
It's so easy to be in the minority – you rail against everything and take responsibility for nothing. How much loss of American life is acceptable to you? And what the hell are you doing about it? https://t.co/m92sYSohXo

— Christy Smith (@ChristyforCA25) November 23, 2020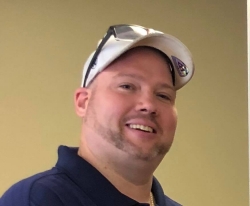 Latest posts by David Caron
(see all)