Donald Trump Jr. took to Instagram Sunday to mock Joe Biden in a Christmas Story meme, which highlights Joe Biden's mental fatigue.
"Happy Easter #LGB"
This comes as we previously reported liberals are going after the Republican euphemism, "The firestorm surrounding Jared Schmenk, the Oregon father who told Joe Biden "Let's go Brandon" in a Christmas Eve phone call is the latest example of mainstream media hypocrisy.
In an article reporting the situation, NBC News categorized it as a "right-wing slur" despite Biden's horrible poll numbers, which show that he is currently disliked by far more than just those on the right."
Like Donald Trump Jr. many hold the belief that Biden is mentally unfit to serve in office as he has made numerous gaffes in the past. In the meme, you can see Biden pictured in an easter bunny outfit saying "Merry Easter….From Brandon".
We will have to see what Liberal outrage comes as according to some, the phrase, "Let's Go Brandon", which contains no profane language, is a "right-wing slur". Either way, Donald Trump Jr. always has his own way of trolling Democrats, especially Biden.
Merry Christmas from Media Right News.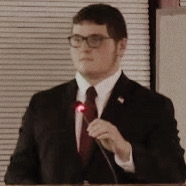 Latest posts by Joshua Troiano
(see all)