President Donald J. Trump has recalled the Ambassador to the European Union Gordon Sondland. Sondland was a House impeachment witness who testified about an Oval Office meeting in regard to Ukraine. In a statement, Sondland writes, "I was advised today that the President intends to recall me effective immediately as United States Ambassador to the European Union. I am grateful to President Trump for having given me the opportunity to serve, to Secretary Pompeo for his consistent support, and to the exceptional and dedicated professionals at the U.S. Mission to the European Union. I am proud of our accomplishments. Our work here has been the highlight of my career." Read his statement below:
Conservative commentator Buck Sexton explained in a tweet that Trump has the authority to make these personnel decisions. View it below:
According to NBC, "He testified that he attended an Oval Office meeting on May 23 with the other two 'amigos' — then-special envoy to Ukraine Kurt Volker and Energy Secretary Rick Perry — and the president, where Trump vented about corruption in Ukraine and told the trio to talk to his personal lawyer, Rudy Giuliani.
He was involved in a July 10 meeting with Ukrainian officials, national security adviser John Bolton and aide Fiona Hill that Bolton ended abruptly after Sondland told the Ukrainian officials they needed to carry out investigations if they wanted an official White House visit, according to testimony from other participants.
Sondland spoke to Trump a day after the July 25 phone call with Ukraine President Volodymyr Zelenskiy, telling Trump in a cellphone conversation overheard by three other people that Zelenskiy had agreed to carry out investigations desired by Trump and Giuliani. According to a witness who testified about the call, State Department official David Holmes, Sondland then said that Trump 'only cares about "big stuff"' when it comes to Ukraine, like the 'Biden investigation.'"
Media Right News will keep updating on developments and additional breaking news.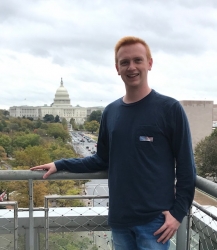 Latest posts by Connor Merk
(see all)