Virginia Senator Tim Kaine announced his endorsement of former Vice President Joe Biden for the Democratic presidential nomination. This announcement comes as Virginia will be holding its Democratic Primary vote on Tuesday, March 3rd. In a tweet this morning, Kaine stated that "America is afflicted by a President who delights in division, cruelty, lies, and chaos" and "Joe has exemplary heart, character, and experience." View it below: 
Alex Seitz-Wald, Senior Digital Politics Reporter for NBC News mentioned that Kaine is invoking his endorsement in this primary extremely later than in the 2008 and 2016 Democratic Primary Elections. He mentions that Kaine was a key early endorser for both Barack Obama (Feb. 2007) and Hillary Clinton (May 2014). View it below:
With the addition of Kaine's endorsement, Biden has the most endorsements from U.S. Senators than any other Democratic candidate. According to Biden's Deputy National Press Secretary Matt Hill, the endorsements are Tim Kaine (VA), Chris Coons (DE), Thomas Carper (DE), Bob Casey (PA), Doug Jones(AL) and Dianne Feinstein (CA).
The data-based website FiveThirtyEight predicts a very close race between Biden and Sanders in Virginia. Their forecast shows that Biden will win Virginia with 26% of the vote, Sanders 25%, Bloomberg 19% and the rest of the candidates below 11%. They calculated their predicted levels of support in each congressional district. View it here.
The voting procedures in Virginia include that it will take place throughout the state from 6:00 a.m. until 7:00 p.m. In the open primary, candidates must meet a threshold of 15 percent at the congressional district or statewide level in order to be considered viable. The 99 pledged delegates to the 2020 Democratic National Convention will be allocated proportionally on the basis of the results of the primary. Of the 99 pledged delegates, between 4 and 7 are allocated to each of the state's 11 congressional districts and another 13 are allocated to party leaders and elected officials.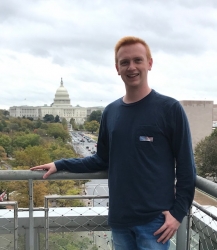 Latest posts by Connor Merk
(see all)