As we previously reported earlier today, "Joe Biden slipped while playing with his dog Major, and twisted his ankle on Saturday. Out of an abundance of caution, he will be examined this afternoon by an orthopedist. ABC reported that he was playing with a dog while this happened." 
In addition to that reports are now coming out that he will require a walking boot for the next several weeks. The Tweet says, "BREAKING – Joe Biden has fractures in his foot bones and "will likely require a walking boot for several weeks," according to the doctor's statement."
The doctor said, "initial X-rays are reassuring that there is no obvious fracture, "he'll be receiving a CT scan for further review."
"It has been speculated that Joe Biden's VP pick, Kamala Harris' mouth is watering to take the presidency one way or another. Although Joe Biden is likely going to be fine from this incident, it highlights the possibility that if Biden is confirmed as president in January, we could one day see now Democrat Senator Kamala Harris as president."
It's safe to say this will hurt the transition effort for the Biden transition team. 
Meanwhile President Trump continues to claim more evidence of voter fraud is to come, and Lin Wood is pushing his fight in Georgia and other states as well. Time will tell what comes of that.
One thing is for sure, those angry at Trump may just get their wish, but at the cost of a frail and elderly Joe Biden, who may not be a very strong leader, especially with foreign diplomacy.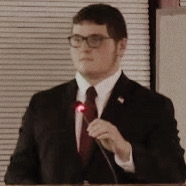 Latest posts by Joshua Troiano
(see all)