U.S. House Rep Lauren Boebert (R-CO) has been an outspoken critic of Vice President Kamala Harris and her lack of a visit to the southern border since Harris became the "border czar."
In an explosive new ad released today, Boebert can be seen walking along a stretch of the border wall that was built during Trump administration.
"I went to the southern border to see what's up, but I didn't go alone…" Boebert said in a tweet where she shared the video.
Boebert can be seen in the video toting a cardboard cutout of "Cackling Kamala" Harris, which, in the end, she props up in front of the wall and tells her, "I want you to stand here and look at what you've done."
Throughout the video, Boebert describes various negative statistics that have been "up" since the Biden administration took over.
I went to the southern border to see what's up, but I didn't go alone… pic.twitter.com/m66fet7mUT

— Rep. Lauren Boebert (@RepBoebert) June 8, 2021
During her visit to Guatemala yesterday, Harris told potential illegal immigrants not to come and insisted that "The United States will continue to enforce our laws and secure our border."
Member of "The Squad" and U.S. House Rep Alexandria Ocasio-Cortez (D-NY) denounced Harris' words in a tweet, pushing back.
"This is disappointing to see. First, seeking asylum at any US border is a 100% legal method of arrival. Second, the US spent decades contributing to regime change and destabilization in Latin America. We can't help set someone's house on fire and then blame them for fleeing," Ocasio-Cortez said in a tweet.
Ocasio-Cortez then offered her own advice to Harris, suggesting that "It would be helpful if the US would finally acknowledge its contributions to destabilization and regime change in the region."
"Doing so can help us change US foreign policy, trade policy, climate policy, & carceral border policy to address causes of mass displacement & migration," Ocasio-Cortez explained.
It would be helpful if the US would finally acknowledge its contributions to destabilization and regime change in the region.

Doing so can help us change US foreign policy, trade policy, climate policy, & carceral border policy to address causes of mass displacement & migration.

— Alexandria Ocasio-Cortez (@AOC) June 7, 2021
Earlier, we reported that Harris played coy in a recent interview when asked if she would visit the border any time soon and actually insisted that they had been to the border:
In an interview with Lester Holt of NBC News, it seems that the pushback against Harris got to her. Holt asked if Harris had any plans to visit the border anytime soon. "I – at some point – you know – we are going to the border. We've been to the border," Harris replied. "So this whole – this whole – this whole thing about the border. We've been to the border. We've been to the border." 
Harris has never been to the border so must have gotten flustered and accidentally lied. Holt continued to press her and Harris responded with, "I – and I haven't been to Europe. And I mean, I don't – I don't understand the point that you're making. I'm not discounting the importance of the border."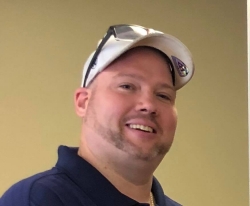 Latest posts by David Caron
(see all)