As Fox News fan's beloved host Tucker Carlson returns to television tonight after a week-long vacation that drew much speculation, things are all not ok. Tucker, as you may know, has been under fire for comments about white supremacy being a 'hoax' shortly after the media and Twitter starting talking about 'white supremacist terrorism'. The shooting that occurred in El Paso, TX sparked this trend and has caused much stir on social media.
Jack Posobiec from One America News tweeted about Tucker's return tonight.
SEE TWEET FROM @JackPosobiec BELOW:
Tucker Carlson coming back tonight pic.twitter.com/QdJEsnyPSh

— Jack Posobiec ?? (@JackPosobiec) August 19, 2019
CNN talks about their opinion of the situation in a video.
SEE VIDEO BELOW:
The day after Tucker Carlson said that white supremacy is not a major problem, he announced his vacation. It's not uncommon for Fox News hosts to take 'vacations' after getting blasted by left-wing pundits and punished by advertisers and advertiser activist groups like Media Matters. This is not an exception as Media Matters, an organization that received $1 Million from George Soros according to a 2010 New York Times post, is definitely involved this time around. The question is only, how much, and what will be the final outcome?
Media Matters initially reported on the 'vacation' here, and subsequently reported here about his return, mentioning that his advertisers are 'fleeing'.
From Media Matters:
Since December 2018, Carlson has lost over 70 paid advertisers. Over the past 11 days, at least five advertisers — HelloFresh, Nestle, SteinMart, Calm and SoFi — have removed their ads from Tucker Carlson's show, and many more have quietly distanced themselves. One major Fox News advertiser, Long John Silver's, was so frustrated that it removed its ads from the network entirely.
Left-wing comedians such as Trevor Noah also chimed in with their opinions during his vacation.
From USA Today:
Trevor Noah thinks there's something suspicious about Tucker Carlson's vacation plans.
The comedian pointed out on Comedy Central's "The Daily Show with Trevor Noah"how Fox News hosts seem to take vacation time when they find themselves in the middle of controversy.
An 'opinion' piece written by Mediaite posted on the 17th titled: An Open Letter to Chris Wallace and Shepard Smith: Quit Tucker Carlson's Fox News Now.
In it, they talk about how Chris Wallace and Shep Smith, two of the more left-leaning Fox News contributors are "the most unblemished of the bunch". They also appear to push for the two quit their jobs at Fox News in protest of Tucker Carlson.
The letter from the Mediaite opinion piece reads as follows:
Dear Shepard Smith and Chris Wallace of Fox News Channel,
Quit now, while you can still make a difference.
I know you've tried to fight the good fight from within at Fox News, but it is no longer enough. And I know that there are (a few) others who are similarly situated, who try to do good work while holding their noses. They don't have the profile that you two have, although I would obviously encourage them to let their consciences guide them similarly.
You have worked within a network that fosters and profits from racism for a very long time, and whatever it is you've been telling yourselves all these years, that it's all just the "opinion" guys (it isn't) or that you are the last bulwark against — to quote Jon Stewart — "Bullshit Mountain," whatever it is, it no longer applies.
I'm not saying everything that went before was less disgusting than what's happening now, but it was empirically less dangerous.
Surely you have noticed the extensive reporting that The New York Times did on the intersection of the El Paso shooting suspect's manifesto and the language of "invasion" that is used relentlessly on your network. In fact, I'd like to think you both had the decency to notice it on your own.
And surely you noticed that after the shooting, your colleagues not only didn't tone down the "invasion" rhetoric, they defended it. When Sandra Smith did push back on a guest's use of the term, it was because "People will take issue with you calling it that. It is obviously a sensitive issue right now."
Finally, after the shooting suspect's explicitly white supremacist massacre of 22 people in El Paso, Carlson said "white supremacy is a hoax."
The appropriate remedies for this situation are, unfortunately, unavailable to us.
If Fox News personalities like Carlson spent several years apologizing for their dangerous campaign against immigrants and others, and spent those years speaking nothing but the truth and selecting stories on the basis of the public interest, and called out Trump's every racist utterance starting with calling Mexicans "rapists" on the first day of his campaign, that would not come close to evening things up.
But none of those things are going to happen. What can happen is that the two of you can recognize that this is a bridge too far, that there is no redeeming value in contributing to an enterprise that would engage the likes of these people, that you could find a welcome home at any news outlet, and quit loudly.
Your departures would not remedy all the damage that has been done, but they would send the powerful message that there are some assaults on decency that cannot be walled off, some harms that cannot be soothed by scare-quoted fairness and balance, some stories to which there are not two sides.
You can no longer safely continue your toils next to this reservoir of hate. The dam has broken, and you can either run for higher ground, or drown in it.
The end of the article is wrapped with:
This is an opinion piece. The views expressed in this article are those of just the author.
It will likely take a backlash from Carlson fans to tell Fox News that they think Tucker Carlson is being mislabeled and targeted. He is definitely one of the most loved hosts on Fox News and many tune in just to see him, boosting the ratings of the shows that follow, such as Laura Ingraham, who is also popular too and has faced her own scrutiny from Media Matters in addition to Sean Hannity.
Media Right News did a Google search for Media Matters Sean Hannity to look for an article relating and the entire first two pages were all links directly from Media Matters website.
SEE IMAGE BELOW FOR DEPICTION WITH PAGE 1: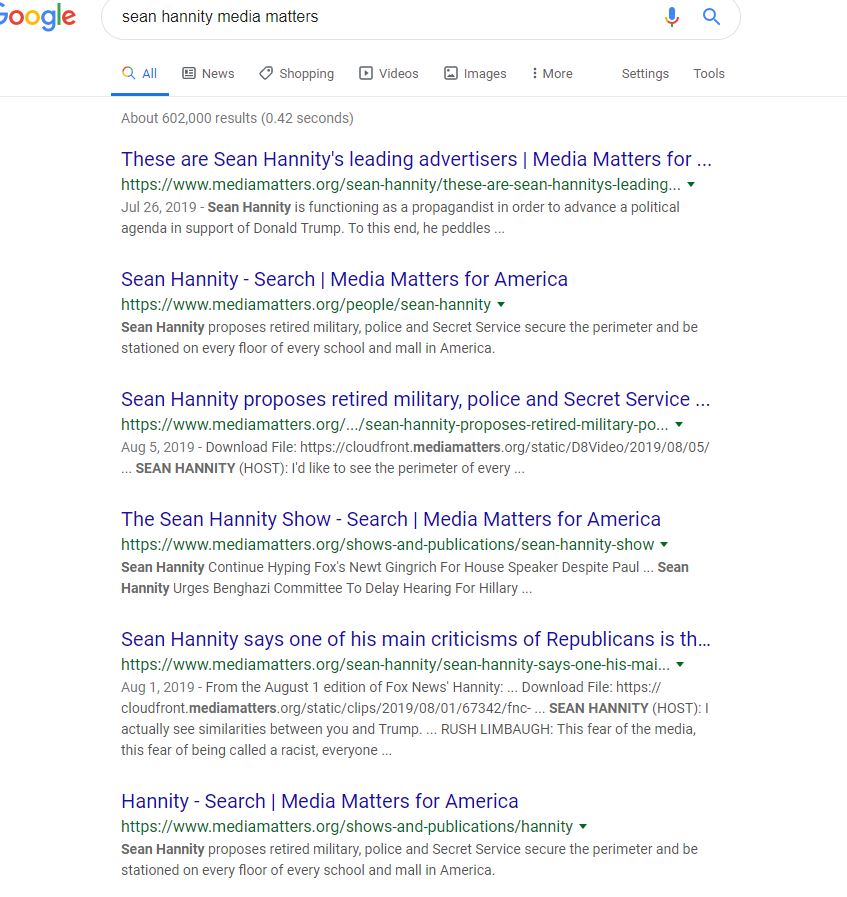 Often the left likes to attack the most effective people on the right and take things out of context or blow them out of proportion so they can remove them from their pedestal. Nobody is perfect but most Fox News viewers likely believe Tucker Carlson is a good person and not nearly the character the left is making him out to be.
Latest posts by Ian MacDonald
(see all)