Former Fox Business host Lou Dobbs released a video, in which he thanked his loyal followers who have kept with him and gave them hope to say he is not done yet, leading some to believe he will be joining another news network.
"I'd like to thank all the great Americans who have reached out over the past few months."
I'd like to thank all the great Americans who have reached out over the past few months pic.twitter.com/p8dQrhSAgm

— Lou Dobbs (@LouDobbs) May 7, 2021
We previously reported in February, "Fox News continues to show its true colors. First, they came for Bill O'Reilly, then Trish Regan, and now Lou Dobb's days are numbered. Dobbs has been a tough America First pro-Trump host on Fox Business, often angering the more moderates with his views on things like immigration and other right-wing views.
Now it's being reported that "Lou Dobbs Tonight," is being canceled. Dobbs has been a strong Trump supporter throughout all the chaos of the election and recent times.
Fox News and Fox Business have started to shift leftward and many have gone over to NewsMax, OAN News, or other sources to get their news, in addition to reading independent sources such as Media Right News when possible."
Dobbs has been a staunch supporter and advocate for former President Donald Trump and his America First agenda. He would call out the RINO's who sought to destroy Trump's presidency and re-election chances.
In the video, Dobbs said, "and I want to assure you at the same time, our journey together is far from over, We will see you soon. Thank you and God Bless America."
A Newsmax host wanted to find the answer to why Dobbs was canceled by Fox News. Newsmax host Grant Stinchfield went after Fox News, "I have come to the conclusion Fox News no longer supports President Trump's America first principles, which is why they couldn't stand Lou Dobbs on their air,".
He went on saying, "Maybe Fox News banishing Dobbs from their network is more sinister, Maybe it's about China. The Murdochs' investments and business ties to that rogue nation, maybe that's what this is about."
Newsmax host claims Fox News may have benched Lou Dobbs to cover up Fox and Murdoch ties to China, including "Rupert Murdoch's third wife" pic.twitter.com/cSux3SNGzV

— John Whitehouse (@existentialfish) April 23, 2021
Many have concluded that Fox News has now moved too far left for them to watch anymore as networks like Newsmax have given refuge to disconnected Trump supporters.
We will have to wait and see where Dobbs ends up and if he decides to go on Newsmax as a host, as he had at Fox Business.
Stay tuned to Media Right News for more updates.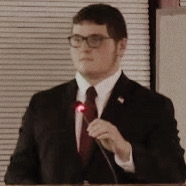 Latest posts by Joshua Troiano
(see all)