The National Security Council official who testified against President Trump in the impeachment inquiry, was reportedly escorted from the White House Friday afternoon. According to his lawyer, "today, Lieutenant Colonel Alexander Vindman was escorted out of the White House where he has dutifully served his country and his President. He does so having spoken publicly once, and only pursuant to a subpoena from the United States Congress … [He] was asked to leave for telling the truth. His honor, his commitment to right, frightened the powerful … We must not accept the departure of truth, duty, and loyalty that he represents. In this country right matters, and so does truth."
View the entire statement below posted by NBC News White House Correspondent Geoff Bennett:
Here's the full statement from Amb. David Pressman, counsel to LTC Alexander Vindman: pic.twitter.com/1xP1XMNufV

— Geoff Bennett (@GeoffRBennett) February 7, 2020
Trump responded to a reporter's question in regard to Vindman being escorted. View his response below:
Pres. Trump doesn't deny reports his White House plans to force out a National Security Council expert who testified in the House impeachment inquiry.

"You think I'm supposed to be happy with him?" Trump says of Lt. Col. Alexander Vindman. "I'm not." https://t.co/RDhqtaRmIs pic.twitter.com/et15zGZGvw

— ABC News (@ABC) February 7, 2020
As reported earlier by Media Right News, "The White House is weighing a plan to dismiss Vindman, the man famous for lashing out at Rep. Devin Nunes (R-CA) for making the epically grave mistake of forgetting to address him by 'Lt. Col'. Vindman is the top expert on Ukraine at the National Security Council. He testified that President Trump tried to force Ukraine into delivering politically motivated investigations against his rivals, not seemingly taking into consideration so much whether or not President Trump's "rivals", (Joe Biden) has actually done actions that warranted such investigations.
Bloomberg reported that some NSC officials might be removed because they are seen as being disloyal to President Trump. The report claims that the White House will be saying Vindman's ouster will be part of a broader effort to clean house and decrease bureaucracy. The decision to fire Vindman yet for sure is apparently not final." View more information on Vindman here.
This story is still developing. Media Right News will update this story as new information is reported.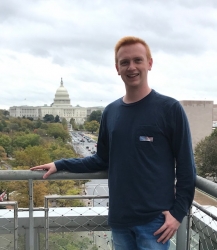 Latest posts by Connor Merk
(see all)