In a nearly 25 minute long Facebook Live video that took place Sunday night, a vehicle Minneapolis City Council member Andrea Jenkins was in was blocked by Black Lives Matter activists until she agreed to sign a statement agreeing that rioters would not be charged.
The activist taking the video said that the standoff had been happening for an hour and a half prior to the start of the video and accused the councilor of being "rude" and "threatening to call the cops."
Jenkins can also be heard accusing the activists of engaging in "white supremacy" for blocking the car. The activist taking the video then tries to suggest that they are not a mob.
Later, over a megaphone, the activist can be heard listing demands that Jenkins agrees to before the group produces a list of "THE PEOPLE'S DEMANDS" which she signs.
In a response to the video, author Dara Moskowitz Grumdahl, stated "This is assault. Assault of a transwoman of color. Any person involved in domestic violence knows that not letting a woman leave, blocking her car, and coercing her is violence and assault. Appalling."
As Gateway Pundit's Cassandra Fairbanks noted, the media has completely ignored this incident, which many are describing as a hostage situation, although it appears that a local outlet has now reported on it.
CrimeWatchMpls shared the Facebook Live video in a tweet yesterday and noted, "If this weren't comical, it would be pathetic that not 1 mainstream #MNmedia outlet reported on a sitting #Mpls city council member being held hostage for 2 hours & coerced to sign a statement agreeing to terrorists demands before being allowed to leave."
The Twitter feed then shared a local article on the situation by the Star Tribune who reported on it yesterday as well and said, "#MNmedia scrambles to catch up after being called out by @CrimeWatchMpls."
#MNmedia scrambles to catch up after being called out by @CrimeWatchMpls

.
. pic.twitter.com/1Jvxz1eQNd

— CrimeWatchMpls (@CrimeWatchMpls) June 29, 2021
In a Facebook post, Jenkins said she was "verbally attacked, berated and held 'hostage' against my will by a large group of angry protesters."
"Every citizen of this City has a right to bring forward their concerns, but no citizen has the right to detain and coerce anyone to do anything, that includes elected officials," Jenkins explained.
Mayor Jacob Frey denounced the tactics as well yesterday afternoon and said that "Holding people for hours against their will until they make a statement under duress is completely unacceptable. It's wrong."
From the Star Tribune:
Activist D.J. Hooker, who posted the video to social media, said in an interview that the encounter lasted approximately two hours. He said he approached Jenkins after a Taking Back Pride event decrying police brutality. The event, according to a posting on social media, sought to prioritize the voices of people who are Black, transgender or queer. Jenkins was the first transgender woman of color elected to public office in a major U.S. city.
Hooker said he approached Jenkins to raise concerns about community groups contracted with the city to de-escalate tensions.
Hooker said he grew frustrated when Jenkins told him she didn't have control over them and she wouldn't commit to leaving George Floyd Square alone, so he said they would hold a peaceful protest outside her house. Hooker said he and Jenkins argued and someone jumped between them.
Hooker said Jenkins began walking away and he yelled, "Oh, you're gonna call the cops on me knowing … what the cops have done to George Floyd, what the cops have done to Dolal Idd and Winston Smith and Daunte Wright."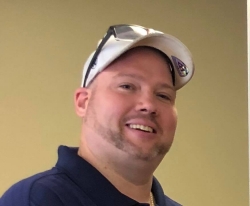 Latest posts by David Caron
(see all)