Rep. Marjorie Taylor Greene (R-GA) trolled the National Security Agency on Twitter following Fox News Host Tucker Carlson's allegations that the NSA is spying on him. Greene posted a tweet with a screenshot of a text message she sent to Tucker Carlson and joked that she "just sent a message to the NSA", hinting that the NSA is monitoring their text conversation.
I just sent a message to the NSA. pic.twitter.com/e5N6RRYNKA

— Marjorie Taylor Greene 🇺🇸 (@mtgreenee) June 30, 2021
Greene's text message reads: "Hi Tucker, reaching out to the NSA to tell them it's illegal to spy on American citizens so I thought the quickest route would be texting you…Thank you for being courageous to tell the truth to the American people on your show. NSA and FBI you're on notice."
On Monday, during his Fox News show, Carlson alleged that a whistleblower from the NSA informed his team and Carlson that their private emails and communications were being monitored by the NSA and could be leaked in attempts to end his show from being broadcast.
Carlson said, "Yesterday, we heard from a whistleblower within the U.S. government reached out to warn us at the NSA, the National Security Agency, is monitoring our electronic communications and is planning to leak them in an attempt to take the show off the air."
The NSA offered some form of denial of these claims, by releasing a statement on Twitter on Tuesday. "This allegation is untrue. Tucker Carlson has never been an intelligence target of the agency and the NSA has never had any plans to try and take his program off the air," the statement said. The statement continued, "NSA has a foreign intelligence mission. We target foreign powers to generate insights on foreign activities that could harm the United States. With limited exceptions (e.g. an emergency), NSA may not target a U.S. citizen without a court order that explicitly authorizes the targeting."
A statement from NSA regarding recent allegations: pic.twitter.com/vduE6l6YWg

— NSA/CSS (@NSAGov) June 30, 2021
The NSA's statement faced a lot of scrutiny on Twitter which seemed to force the NSA to restrict replies on the tweet. Rep. Greene quote tweeted the statement and said "Why would anyone believe the NSA?"
Why would anyone believe the NSA? https://t.co/Gnqk2Eyd2i

— Rep. Marjorie Taylor Greene (@RepMTG) June 30, 2021
Also, Rep. Matt Gaetz (R-FL) demanded that the Inspector General lead an investigation into the NSA's alleged monitoring of Carlson.
BREAKING: Congressman Matt Gaetz Demands Investigation by the Inspector General Regarding Any NSA Monitoring of @TuckerCarlson pic.twitter.com/hajYnHBhno

— Rep. Matt Gaetz (@RepMattGaetz) June 30, 2021
Gaetz described the NSA's statement as being too "couched", believing that the NSA never truly denied Carlson's allegations.
These denials are very couched and specific, don't you think? https://t.co/7RVZIPdsdD

— Matt Gaetz (@mattgaetz) June 30, 2021
Stay tuned to Media Right News for any updates.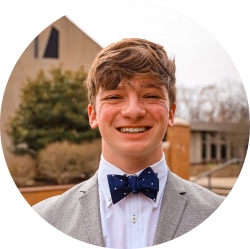 Latest posts by Paul Aubert
(see all)