U.S. House Rep Adam Kinzinger (R-IL) has now essentially turned into a spokesperson for The Lincoln Project lately and former President Trump's speech at CPAC is no different.
After Trump began speaking, Kinzinger tweeted out that "Trump lost the election FYI. Side note this speech is boring."
"We can't win the presidency with this boring, low energy, stream of conscience, weak, has been, choke artist. Just my .02," he continued.
Kinzinger then claimed that it was "Time to focus on an optimistic future."
U.S. House Rep Marjorie Taylor Greene (R-GA) mocked Kinzinger in a response, "Hahaha yet you're watching it."
Greene then wondered, "You know who can't win?" She responded to her questions and said, "You. All you do is attack Republicans, while our real enemy is Biden and the communists Democrats who are ripping our country apart."
Greene concluded by encouraging Kinzinger to "Stop being such a jerk all the time and remember the people who voted for you!"
During his speech, Trump mentioned Kinzinger on a list of Republicans who he said are betraying the voters.
Hahaha yet you're watching it 😂

You know who can't win?

You.

All you do is attack Republicans, while our real enemy is Biden and the communists Democrats who are ripping our country apart.

Stop being such a jerk all the time and remember the people who voted for you! https://t.co/1yxMl9HKpP

— Marjorie Taylor Greene 🇺🇸 (@mtgreenee) February 28, 2021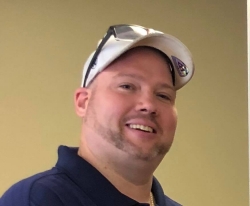 Latest posts by David Caron
(see all)