The Homeland Security and State departments announced the administration is now including Kyrgyzstan, Myanmar, Eritrea, Nigeria, Sudan, and Tanzania.
According to the Los Angeles Times, "Administration officials said Friday that the measure would not necessarily block all citizens of those nations from entering the United States, affecting only "limited categories" of travelers. U.S. officials will stop issuing certain visas to potential immigrants from Kyrgyzstan, Myanmar, Eritrea, and Nigeria, and diversity visas, obtained by lottery for those whose countries have low rates of U.S. immigration, will no longer be issued to Sudanese and Tanzanians. The new restrictions will not apply to tourist or business travel, White House Press Secretary Stephanie Grisham said in a statement Friday." 
Democratic Representative Ilhan Omar tweeted her distaste with the new policy where she states that it is a monument to anti-Muslim hate and that the president does not believe in freedom of religion or the Consitution. View her tweet below:
This decision has been released the same day as Secretary of Health and Human Services Alex Azar declared a public health emergency in the United States at a White House press briefing on coronavirus.
According to an ABC News article, "U.S. citizens returning from Hubei province in the previous 14 days will be subject to up to a 14-day quarantine. Foreign nationals, other than immediate family members of U.S. citizens, who have traveled to China in the previous 14 days will be denied entry into the country. The temporary measures take effect Feb. 2 at 5 p.m. Americans who've traveled to other parts of China in the previous 14 days will be subject to a health screening upon entry and asked to self-quarantine for up to 14 days."
This decision has been supported by Senator Tom Cotton (R-AK) who expressed agreement with the administration erring on the side of caution. View his tweet below: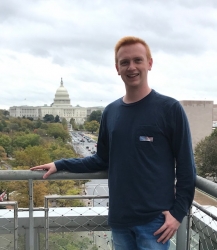 Latest posts by Connor Merk
(see all)