A report came out that President Trump acknowledged he had some blame for what happened last Wednesday at the Capitol. President Trump has been censored on social media and permanently banned on Jack Dorsey's Twitter, causing the stock to temporarily crater yesterday.
However, that initial story that Trump accepted some blame seems to have been debunked as he said today at the JBA. "It's been analyzed and people thought what I said was totally appropriate." This comes from John Roberts with Fox News.
President Trump – at JBA – says he has no regrets about last Wednesday's speech: "It's been analyzed and people thought what I said was totally appropriate."

— John Roberts (@johnrobertsFox) January 12, 2021
Following Wednesday's events at the Capitol, everyone took to President Trump to blame him for the Capitol breach and the violence that took place. Both Democrats and even some Republicans blamed the president for the drama and chaos that ensued. Nicholas Sandmann, who became famous for wearing a MAGA hat at the March for Life in 2019 even blamed the president last week on Twitter.
I love much of what Trump has done but I'm placing a lot of blame on him for letting a march that he advertised turn into this utter embarrassment.

— Nicholas Sandmann (@N1ckSandmann) January 7, 2021
Sandmann reaffirmed his position after the Fox News report came out yesterday.
I'll take my ratio back thank you very much https://t.co/Fc7fTTsfuK pic.twitter.com/euM7ZuEmRd

— Nicholas Sandmann (@N1ckSandmann) January 12, 2021
Sandmann seems to have turned into an anti-Trump establishment shill after working for Mitch McConnell. Some could say he is just an opportunist who does what is best for his career. But once again he is quite possibly wrong as this Fox News report was debunked today by the president.
It appears he was potentially wrong about President Trump "taking partial blame" and will continue to get heckled on Twitter by those who disagree most likely.
President Trump's lawyer and former NYC Mayor Rudy Giuliani took to Twitter to attack big tech for its censorship recently.
This massive shut down on free speech has never occurred in the United States.

It equals many authoritarian regimes.

The last refuge to protect free speech is our judiciary.

Let's join together and pursue civil rights, restraint of trade and other anti-trust laws.

— Rudy W. Giuliani (@RudyGiuliani) January 12, 2021
Stay tuned to Media Right News for more.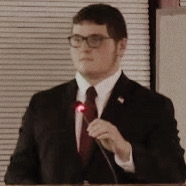 Latest posts by Joshua Troiano
(see all)