Congressman Doug Collins (R-GA) questioned the Democratic Counsel, Daniel Goldman about former Vice President Joe Biden's controversial statement regarding the Ukrainian prosecutor and the phone records of Congressman Devin Nunes, and journalist John Solomon. 
FULL 10 MINUTE CLIP FROM MEDIA RIGHT ON FACEBOOK BELOW:
Collins read the transcript of Biden speaking about the firing of the Ukrainian prosecutor, which Biden said, "We're not going to give you the billion dollars. They said, 'You have no authority. You're not the president.' I said 'Call him. You're not getting the billion and I'm leaving here in six hours and if the prosecutor is not fired, you're not getting the money.' Well, son of a b—-, he got fired!" The Democratic Counsel replied by saying that it is an example of a quid pro quo. Collins asked, "Either Joe Biden is a liar who is lying to make people impressed, or he actually did this … Joe Biden is a terrible candidate and he can destroy himself on the campaign trail, but he can't get by this." 
Joe Biden was the only one who pushed a quid pro quo!

Joe Biden is "the only one that's actually threatened a foreign government and yet we're sitting here pretending this is not happening?" pic.twitter.com/YN1sCzZQvu

— Trump War Room (Text TRUMP to 88022) (@TrumpWarRoom) December 9, 2019
Collins also questioned Goldman regarding the phone records of Representative Nunes by asking, "Was it you or was it, Chairman Schiff, while we're doing this let's see if this matches Nunes' number … so who did it?" Watch the encounter below:
Congressman Doug Collins asking about who matched the numbers in the AT&T phone records to Congressman Nunes and Journalist John Solomon:

"Who did it. Chairman Schiff or you? Be careful, you're under oath." pic.twitter.com/ogbeawtiIf

— Benny (@bennyjohnson) December 9, 2019
According to an article published by Politico, "The Schiff report describes a tangled web of contacts among an array of Trump associates and allies as the Ukraine effort took shape earlier this year — including previously undisclosed communications between these individuals and John Solomon, a former columnist for The Hill newspaper whose writings have animated GOP defenses of the president.
The report also includes new details, including phone logs and records describing a more extensive set of contacts than previously known between Trump's personal lawyer Rudy Giuliani — whom Trump deputized to lean on top Ukrainian officials — and the top Intelligence Committee Republican, Rep. Devin Nunes of California."
According to the article, "Schiff declined to comment on Nunes' inclusion in the report, but said: 'It is deeply concerning that at a time when the president of the United States was using the power of his office to dig up dirt on a political rival, that there may be evidence that there were members of Congress complicit in that activity.'"
White House Press Secretary Stephanie Grisham tweeted a response to the hearings. See below: 
FIVE INDISPUTABLE FACTS:
1. No evidence of wrongdoing by @POTUS
2. Ukraine said there was no pressure
3. Lethal aid to Ukraine wouldn't exist w/o @realDonaldTrump
4. There's no obstruction whatsoever
5. This is an unfair & unprecedented impeachment process

— Stephanie Grisham (@PressSec) December 9, 2019
Senator Marsha Blackburn (R-TN) also tweeted her thoughts on these hearings today by criticizing Chairman of the House Intelligence Committee Adam Schiff (D-CA). See below: 
Adam Schiff's "report" has made one thing clear – @realDonaldTrump is being impeached over policy disagreements.

— Sen. Marsha Blackburn (@MarshaBlackburn) December 9, 2019
A few days ago, Collins released a statement regarding the impeachment process that said, "House Democrats just dove deeper into their partisan impeachment charade. They promised Americans they would only drag the country into an impeachment if it was bipartisan. They broke that promise, and their effort to feign fairness and transparency is anemic at best."
Also, "Americans want Democrats to return to legislating, but Speaker Pelosi's caucus turned a deaf ear to them. Instead, 231 Democrats voted to continue a covert process to undo a national election and nullify the will of the American people."
Read the complete statement here.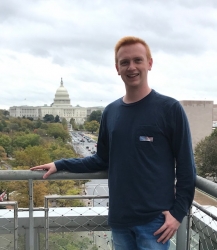 Latest posts by Connor Merk
(see all)