Editor's Note: This story contains graphic images and expletives, reflecting the verbatim language used by the candidate.
A recent Citizen Times report revealed that NC-11 Democrat nominee, Moe Davis, has a fiery and expletive-laden history on Twitter, where he repeatedly calls for violence against Republicans and makes extremely lewd comments about women, specifically Melania and Ivanka Trump.
In the tweet storm, Democrat Moe Davis, attacking Asheville-area Republicans, declares, "Screw they go low, we go high bull***t, when @NCGOP extremists go low, we stomp their scrawny pasty necks with our heels and once you hear the sound of a crisp snap you grind your heel hard and twist it slowly side to side for good measure."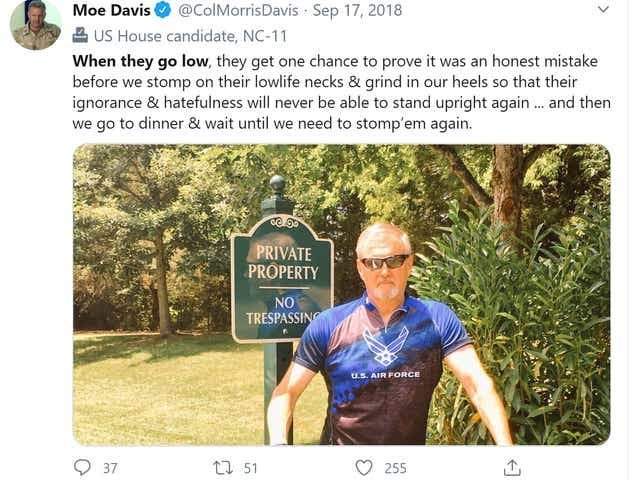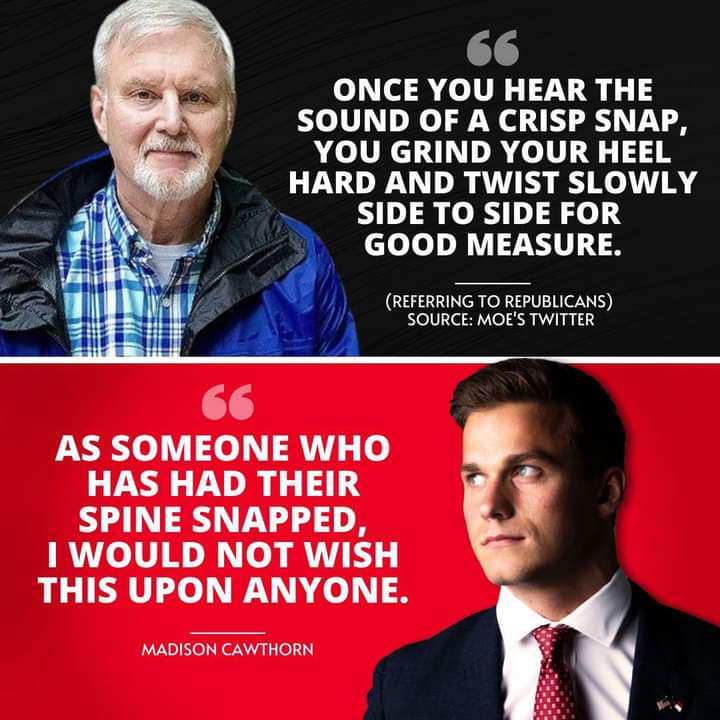 These remarks come amid an intense wave of left-wing violence gripping America's liberal inner cities and calls to defund the police.
The retired Air Force colonel and Democrat is extremely active on social media. His Twitter account, @ColMorrisDavis, has roughly 161,000 followers and over 92,000 tweets, many of them demonstrating improper language and vulgarity.
His attacks also extended to Christians declaring that Trump had turned evangelicals into a "klan of un-Christlike hypocrites who betray everything Jesus stood for." Previously, he wrote, "you can't be for @realDonaldTrump and for Jesus."
In April of 2018, Davis referred to Trump supporters as "his small 'c' christian, small 'p' patriot, fact-averse, free-dumb loving base."
Referring to politicians like Sen. Lindsey Graham, and their bare-minimum support for the President's America First Agenda, he writes, "there's going to be an indelible hickey on Trump's fat ass."
Mr. Davis also goes after the First Lady after an event in which she embraced an orphaned child whose parents were the victims of a tragic shooting at an El Paso Walmart.
Of this encounter he declared, "You've got to be a 100% purebred worthless scumbag a*****e to do a grinning photo doing a thumbs up while your foreign-born nude model 3rd wife holds the baby of 2 parents who were slaughtered by another a*****e who was carrying out your racist a*****e agenda!"
Davis went on to mock Melania's anti-bullying and child well-being campaign BE BEST, tweeting photos of both her and Trump's daughter Ivanka Trump in revealing dresses with the hashtag, "#BeBreasts."
Democrat Moe Davis' Republican opponent, Madison Cawthorn, who is paralyzed from the waist down, received national fame for standing for the flag and the pledge of allegiance at the Republican National Convention.
In a response to the press, Cawthorn called Davis' posts, "nauseating" and dubbed it, "hate-filled rhetoric."
On social media, Cawthorn directly made the comparison with a graphic decrying political violence and sharing his perspective on snapped spines, declaring, "As someone who has had their spine snapped, I would not wish this upon anyone."
When confronted about the horrific content of his tweets, Moe Davis insisted, "These are tweets. This is blunt language. That's all it is."
For those who wish to see more, the Madison Cawthorn campaign has compiled a full list at https://www.moetaxes.com/twitter.