A transgender woman and television personality Caitlyn Jenner has announced that she will be seeking the Republican nomination for the California Recall Gubernatorial election which will be held in the fall of 2021.
"I'm in! California is worth fighting for. Visit http://CaitlynJenner.com to follow or donate today."
I'm in! California is worth fighting for. Visit https://t.co/a1SfOAMZQ3 to follow or donate today. #RecallNewsom pic.twitter.com/9yCck3KK4D

— Caitlyn Jenner (@Caitlyn_Jenner) April 23, 2021
We previously reported on how former Trump Campaign manager Brad Parscale, is reportedly helping her run, "It appears Brad Parscale, former Trump campaign manager is advising Caitlyn Jenner on a possible California Governor run. Jenner is also reported to be meeting with GOP fundraiser Caroline Wren.
correspondent for NYTimes Maggie Haberman first reported on in Parscale helping with Jenner's campaign after Axios broke the story on her possible run for governor.
"Re axios story Caitlin Jenner possibly running for gov, Brad Parscale – who is said to have known Jenner for several years – is advising her on building her team. He is not the campaign manager but providing guidance on who to fill specific roles. Caroline Wren is said to be involved in the Jenner effort. Wren is a former Trump campaign official who helped with Mark Meadows/CPI event this weekend that overlaps with RNC retreat."
Jenner and Parscale have known each other for a few years it is being reported that Parscale is just helping a friend."
In 2017, Jenner went on Tucker Carlson's show to talk about how she did vote for the former president and she defended how she is transgender. Both of them disagreed later in the interview as Jenner believed you are born transgender. Jenner did seem to regret how that she voted for former President Donald Trump.
Tucker mentioned that transgender women can compete with a biological women in sports and easily beat them which many see as a problem.
We will have to see how Tucker feels on her run and if he will have anything to say tonight on his show as they both have seemed to have some disagreements in the past.
Stay tuned to Media Right News for more updates.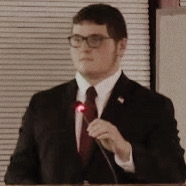 Latest posts by Joshua Troiano
(see all)