With Meghan McCain no longer on the show, there has been a lack of drama on ABC's "The View," but on Thursday, many took offense to a fat joke that Shark Tank's Barbara Corcoran made at co-host Whoopi Goldberg's offense.
Act for America's Brigitte Gabriel tweeted a clip of the incident and said, "Barbara Corcoran called Whoopi Goldberg fat and now cancel culture is coming for her."
Barbara Corcoran called Whoopi Goldberg fat and now cancel culture is coming for her. pic.twitter.com/Aa3vRaeFVl

— Brigitte Gabriel (@ACTBrigitte) October 7, 2021
In the clip, Goldberg made a self-deprecating remark about pandemic weight gain and co-host Ana Navarro chimed in with a similar remark.
Corcoran then chimed in and told Goldberg, "And when you get finished with those jeans and decide you don't like them, give them to me, I'm going to make 2 pairs."
A recent NPR article focused on the fact that "Many Americans have gained significant weight since the COVID-19 crisis started."
While many Democrats have patted themselves on the back for potentially preventing COVID-19 deaths, it is clear that there has been an overall decline in health thanks to the preventative measures that they have put in place.
Nevertheless, Corcoran received a great amount of backlash for the joke and even Navarro gave her a hard time after she made the joke, telling her that the dress she was wearing had already been worn by Sara Haines and Jill Biden.
Corcoran issued an apology later in a video that she tweeted where she said, "I just came back from 'The View' and saw my old friend Whoopi. As you well know, she has a phenomenal sense of humor and I've known her for years."
"I made a joke at Whoopi's expense which I now realize wasn't funny. For anyone who I may have offended, unintentionally, I just wanted to say I really am very sorry," Corcoran explained.
In the tweet itself, Corcoran wrote, "Love ya Whoopi #TheView" and added a blue heart emoji.
Goldberg replied to the tweet, "Barbara we have been friends forever and i know your humor, i knew you were kidding."
Corcoran then quote tweeted Goldberg and added, "You're terrific Whoopi! And as always, a class act. Thank you."
You're terrific Whoopi! And as always, a class act. Thank you https://t.co/CSUuAWH5ua

— Barbara Corcoran (@BarbaraCorcoran) October 8, 2021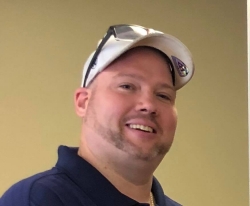 Latest posts by David Caron
(see all)