Tuesday, a list of 42 of the 48 golfers playing in the LIV Tournament was released. One top golfer, Dustin Johnson, had changed his tune and has decided to ditch the PGA tournaments and instead participate in the Trump-endorsed tournament.
Saudi Arabia's sovereign wealth fund is funding the tournament. The first of the series is set to kick off on June 9th at London's Centurion Club and will conclude at Trump's with October's Team Championship at Trump National Doral in Florida.
Johnson's personal sponsor, The Royal Bank of Canada, seemed to be caught off guard by his decision and made a statement that they were "extremely disappointed". However, they did not outright say if they would drop the golfer or not. See the full statement below:
"RBC is a proud partner of the PGA Tour. Our partnership is anchored with two world-class golf tournaments—the RBC Heritage and the RBC Canadian Open. The PGA Tour has been clear about its intentions in accordance with its tournament regulations should a golfer choose to play in a tournament outside the tour, including the LIV Golf Invitational Series."
"We were recently made aware that Dustin Johnson made the decision to play the LIV Golf Invitational Series opener. DJ has been a valued RBC team member since 2018. While we are extremely disappointed in his decision, we wish him well."
There is speculation as to why Johnson had a change of heart and it looks like it may be the purse offered in the LIV tournament.
The total purses for all eight events totals $255 million.  All but the final event offer purses of $25 million, with the Team Championship, set at $50 million. In comparison, the largest purse in the PGA tournament is $20 million at the Players Championship.
The full list of events in the LIV series are below:
9-11 June: Centurion Golf Club – London, England
1-3 July: Pumpkin Ridge Golf Club – Portland, USA
29-31 July: Trump National Golf Club Bedminster – New Jersey, USA
2-4 September: The International – Boston, USA
16-18 September: Rich Harvest Farms – Chicago, USA
7-9 October: Stonehill Golf Club – Bangkok, Thailand
14-16 October: Royal Greens Golf Club – Jeddah, Saudi Arabia
27-30 October: Team Championship, Trump National Doral, Miami, USA
PGA of America announced last year that they were terminating their agreement for the 2022 Championship that was supposed to be played at the Trump Bedminster. This is where it has been held since 2014.
"The PGA of America Board of Directors voted tonight to exercise the right to terminate the agreement to play the 2022 PGA Championship at Trump Bedminster." — Jim Richerson, PGA of America President"
"The PGA of America Board of Directors voted tonight to exercise the right to terminate the agreement to play the 2022 PGA Championship at Trump Bedminster." — Jim Richerson, PGA of America President

— PGA of America (@PGA) January 11, 2021
Trump took to Truth Social in May to share his thoughts on PGA and LIV:
"Take the money and run (or stay!). The PGA of "America" and the PGA Tour have been taking advantage of the players for many years (not much different than charging the fans $19 for a beer), and the players are not happy. The "PGA" has maximum Tax Exempt Status, makes a fortune, and pays executives salaries higher than virtually any of the very talented players can make in a good year."
"LIV can change that! Backed by Saudi Arabia (just like Formula One, UFC, Boxing, Tennis & almost all of sports, unlimited amounts of money will be available for the players, charity and likewise for PGA will, because of this new competition, be forced to "pay up," maybe even having to reduce their very bloated salaries. It was only because of competition that the Players Championship paid a record this year – great going Cam! Professional Golfers should embrace LIV and just watch what happens – Much more of everything for all!"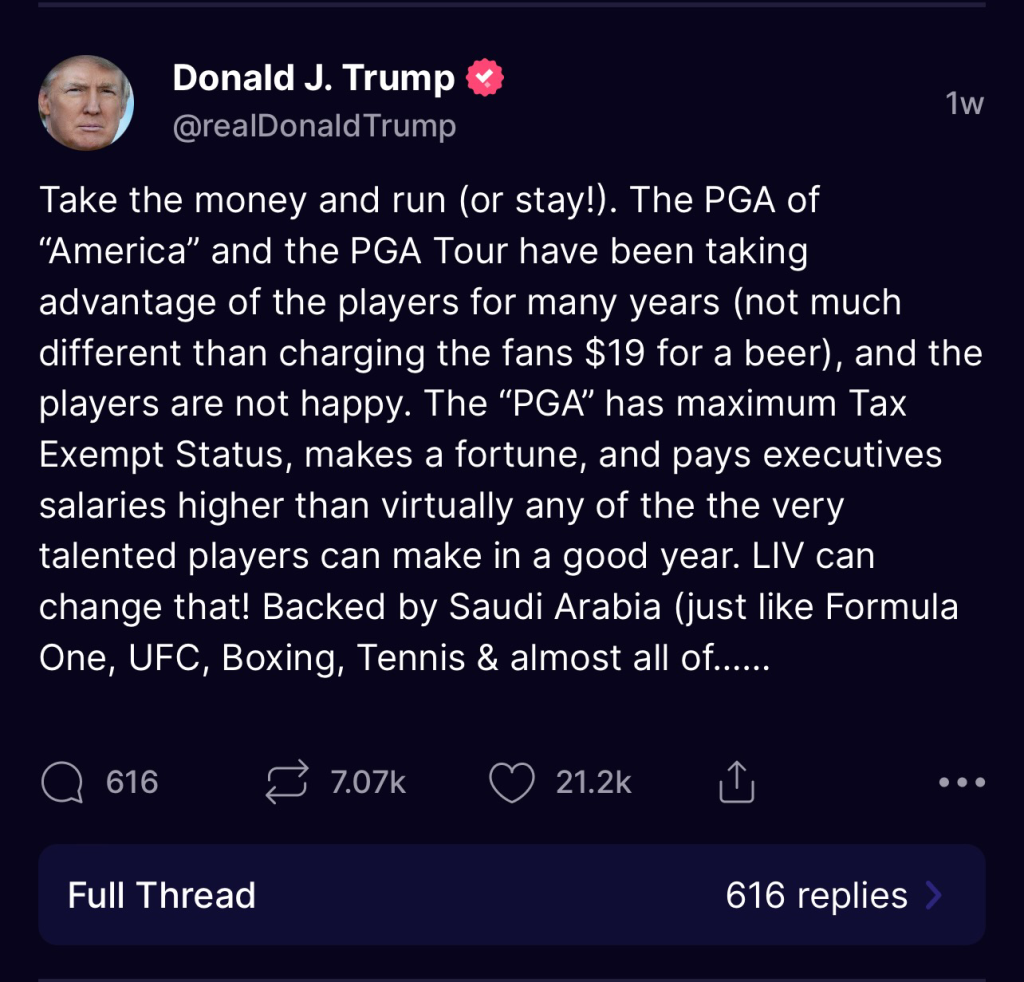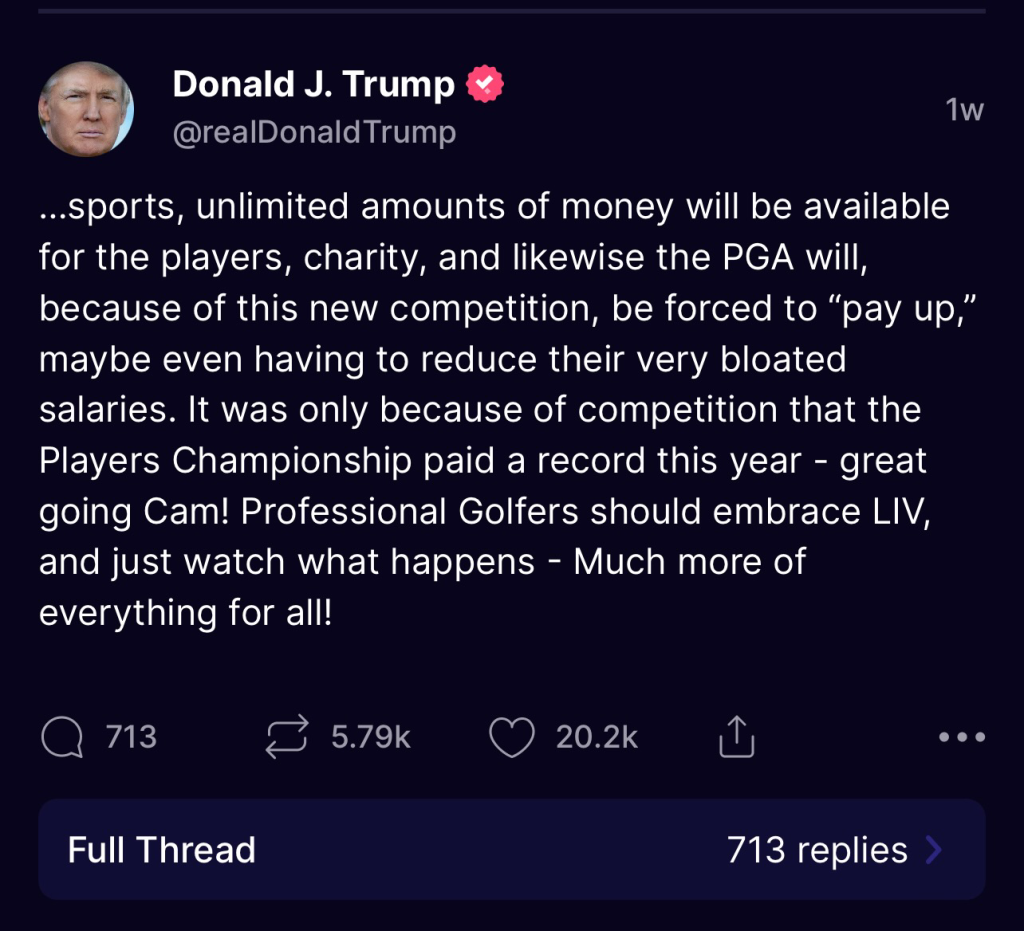 This could bring more competition to the world of golf and like Trump said, maybe "much more of everything for all!"
Latest posts by Kay Williamson
(see all)