Former President Donald Trump fired back Wednesday afternoon following the news that the Facebook review board declined to overturn the former president's indefinite suspension on the popular social media app, Facebook.
We previously reported today on how the "Facebook oversight board has upheld Donald Trump's suspension from the platform after January 6th. The board has put now pushed the decision of what to do going forward back to Facebook.
In the issued statement from the oversight board, they write "However, it was not appropriate for Facebook to impose the indeterminate and standardless penalty of indefinite suspension. Facebook's normal penalties include removing the violating content, imposing a time-bound period of suspension, or permanently disabling the page and account."
The board continued, "The Board insists that Facebook review this matter to determine and justify a proportionate response that is consistent with the rules that are applied to other users of its platform."
The board gave Facebook a deadline of six months to review the matter and make a decision on how to handle Trump's account. They recommended that Facebook also develop "clear, necessary, and proportionate policies" for public safety and freedom of expression."
"JUST IN – Trump on Facebook, Twitter, and Google."
JUST IN – Trump on Facebook, Twitter, and Google. pic.twitter.com/oawtoVV7aM

— Disclose.tv 🚨 (@disclosetv) May 5, 2021
Trump said, "What Facebook, Twitter, Google have done is a total disgrace and an embarrassment to our country. Free speech has been taken away from the president of the United States because the Radical Left Lunatics are afraid of the truth, but the truth will come out, anyway, bigger and stronger than ever before."
He concluded, "These corrupt social media companies must pay a political price, and must never again be allowed to destroy and decimate our electoral process."
Most social media companies are using the January 6th Capital protest to justify his indefinite suspension and in some cases his permanent ban from these sites.
Though there is some hope for the former president as the Facebook oversight board co-chair Michael McConnell said, "Indefinite penalties of this sort do not pass the international smell test,". Meaning he may be able to gain access to his account in the future.
Stay tuned to Media Right News for more updates.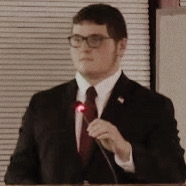 Latest posts by Joshua Troiano
(see all)