According to an internal document obtained by NBC News, U.S. officials are tracking large groups of Haitians in Latin America, including more than 20,000 in Colombia, who like the thousands now massed on the Texas border may soon try to reach the U.S.
Tucker Carlson warned about the news tonight on his Fox News show and said that he believes that the Biden administration is cheering on this potential surge.
"This is a manufactured crisis, this is an attempt to change the demographics of the United States in order to give permanent power to the Democratic party, that's all this is," Carlson insisted.
From a Facebook post with a clip from Carlson's show:
How completely out of control is our southern border? On Friday, the Border Patrol checkpoint near El Indio, Texas, directly across the Rio Grande river from Mexico, was completely unmanned. There was no one there. You could have driven a truck full of fentanyl or illegal aliens directly into the United States without being stopped. Doubtless people did that.
Two days later, this Sunday, the border patrol checkpoint on US Highway 57 just east of Eagle Pass, Texas was also unmanned. Again, no one there. Eighteen wheelers drove right over the bridge from a country in the middle of a drug war, and sped off into the interior of the United States. God knows what was in them. We'll never know. Joe Biden really has opened our borders to the world. That's not a republican talking point. It's completely real.
NBC News reported:
The Department of Homeland Security document also said the DHS Office of Professional Responsibility, the agency's internal watchdog, is investigating an incident in which a Border Patrol agent on horseback in Del Rio, Texas, grabbed a Haitian migrant by the shirt. The incident, captured by a news photographer, drew widespread criticism Monday, prompting White House press secretary Jen Psaki to describe it as "horrific."
In addition to the 20,000 Haitians gathered in northern Colombia, DHS is also monitoring groups of about 1,500 in Panama and 3,000 in Peru, the document said. A senior DHS official said it remains to be seen when and whether those migrants will come to the U.S., but they have begun "staging" in the various countries, potentially signaling they are planning to travel in large numbers.
An Aug 26 Al Jazeera article described the intentions of the migrants, as Carlson said, they are not refugees seeking asylum, rather, they simply believe they will find a "new life" in America.
One Haitian, Peter, told Al Jazeera, "This is how things are. You have to do it if you want a new life. Things are very difficult for us Haitians."
While the plight of these migrants is understandably tough, it doesn't seem fair that the United States must absorb them, in our view.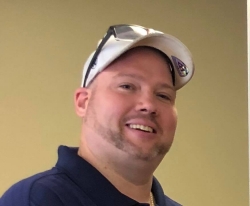 Latest posts by David Caron
(see all)