On Sunday, Congresswoman Brenda Lawrence (D-MI) went on 'No BS News Hour' with Charlie LeDuff and appeared to state she no longer supports impeaching President Trump. "You can censure, you don't have to remove the president. Sitting here, knowing how divided this country is, I don't see the value of kicking him out of office, but I do see the value of putting down a marker saying his behavior is not acceptable."
According to an article published by National Review, "Lawrence predicted a partisan vote in the House on impeachment and no conviction in the Republican-controlled Senate." Also in the article, it was stated that committee chairman Adam Schiff said Monday that the House Judiciary Committee will receive a report on the inquiry shortly after Thanksgiving.
Rep. Lawrence represents a heavily Democratic district, which voted for her 80 percent of the vote in the 2018 midterm election. Her uneasiness on impeachment represents a major shift that many House Democrats who are in more vulnerable districts, specifically those who represent areas where President Trump won in 2016. 
On Tuesday, Rep. Lawrence flip-flopped again and released a clarification statement that said, "I was an early supporter for impeachment in 2017. The House Intelligence Committee followed a very thorough process in holding hearings these past two weeks. The information they revealed confirmed that this President has abused the power of his office, therefore I continue to support impeachment." Read the rest of the statement below.
New: Rep. Brenda Lawrence (D-Michigan) flips back, resumes her support for impeaching Trump. https://t.co/32lwro3uo0 pic.twitter.com/zJ49FHHC7V

— Sahil Kapur (@sahilkapur) November 26, 2019
Other Democrats have been skeptical of this process from the beginning, including Congressman Jeff Van Drew (D-NJ). He represents a district that President Trump won in 2016. Van Drew voted no on the impeachment inquiry on October 31 and released this statement, "Without bipartisan support I believe this inquiry will further divide the country tearing it apart at the seams and will ultimately fail in the Senate." Read his whole statement here.
He has also appeared on Fox News and blasted the impeachment hearings. He said, "We have to understand, impeachment is something that's supposed to be exceptionally unusual. It is supposed to be bipartisan. It is supposed to be fair." View his appearance with Maria Bartiromo here.
This attracted the attention of President Trump who tweeted out a response to Van Drew. See below: 
"Congressman Van Drew (D-NJ) SLAMS Democrats for 'fracturing the Nation' with Impeachment probe. 'We already know how it's going to end." @FoxNews

— Donald J. Trump (@realDonaldTrump) November 18, 2019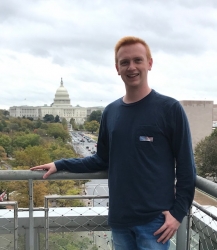 Latest posts by Connor Merk
(see all)