Two Fox sports announcers, Joe Buck and Troy Aikman are facing criticism and demands for an apology from veterans for comments they made during a Sunday football game about military flyovers during a broadcast.
As military jets flew over a relatively-empty Raymond James Stadium before the Packers-Buccaneers game, Joe Buck and Troy Aikman commented on the flyover during what appeared to be a commercial break.
The clip begins with Aikman saying "That's a lot of jet fuel just to do a little flyover," with Buck agreeing and responding, "That's your hard-earned money and your tax dollars at work!"
"That stuff ain't happening with [a] Kamala-Biden ticket," Aikman continues and concludes, "I'll tell you that right now, partner." The comments appeared to be on a hot mic and came from a raw feed that wasn't part of the broadcast shown on Fox.
Even Joe Buck and Troy Aikman find pregame flyovers to be a little much these days: https://t.co/0IZL6GhmZy pic.twitter.com/G4EpB3SYtN

— Defector (@DefectorMedia) October 19, 2020
Aikman won multiple Super Bowls as the starting quarterback for "America's Team" the Dallas Cowboys in the early 1990s.
A week ago, journalist Rick Lewis tweeted out that "At the airport masked up and headed to AZ and a woman asked if I was Troy Aikman sorry Troy! LOL" and Aikman responded, "I think I owe you the apology."
I think I owe you the apology😂 https://t.co/CRYMcYoO0M

— Troy Aikman (@TroyAikman) October 12, 2020
Veterans have jumped on that tweet to demand an apology from the former quarterback.
Twitter user Bob Cravotta replied, "As a 22 year veteran of the Air Force and a fan of yours I am disappointed in your comment. The pilots who do those fly overs are proud to do it and it means a lot for the American people. The only Cowboy jersey I own was yours but I'll be putting it on offer up. Joe Buck sucks."
As a 22 year veteran of the Air Force and a fan of yours I am disappointed in your comment. The pilots who do those fly overs are proud to do it and it means a lot for the American people. The only Cowboy jersey I own was yours but I'll be putting it on offer up. Joe Buck sucks.

— Bob Cravotta (@BC1680) October 20, 2020
US Army vet Michael Bolin told Aikman, "I think you owe American Vets an apology! Do you think Joe Buck would have the balls to say what he said on the hot mic in front of one of us?"
I think you owe American Vets an apology! Do you think Joe Buck would have the balls to say what he said on the hot mic in front of one of us?

— Michael Bolin (@revmichaelb) October 19, 2020
USMC Veteran "Tripp" echoed those words also and said, "I think you owe American and its veterans an apology."
I think you owe American and its veterans an apology.

— Tripp (@trippmehew) October 19, 2020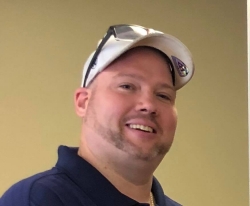 Latest posts by David Caron
(see all)