According to a Washington Examiner article, Senator Mitt Romney (R-UT) is positioning himself to run for president in 2024. The Washington Examiner article states, "A Republican strategist neither affiliated with nor opposed to Trump agreed that Romney's maneuvering during the four-month impeachment process was calculated. This veteran operative predicted the senator would be active after the November elections, trying to restore the internationalist, 'Chamber of Commerce' Republicanism that dominated the GOP before the elevation of Trump, a populist and a nationalist."
The strategist said anonymously, "He is cynically betting on an electoral disaster in 2020. I think he believes he will be the only guy who will look like he was in the right on the road to hell." View the entire story here. 
This story comes days after American Conservative Union president Matt Schlapp announced on Twitter that Senator Romney is not welcomed at the annual Conservative Political Action Conference (CPAC) conference most likely for his frequent criticism of the Trump administration. View his tweet below:
In Utah, a state legislator Tim Quinn (R) filed a bill to allow Utahns to recall an elected United States senator. According to Deseret News, Quinn stated, "It's not meant to target any specific sitting Utah senator — but it comes amid heightened national attention on Sen. Mitt Romney, who has been among the few Republican senators publicly critical of President Donald Trump." In Quinn's opinion, "A six-year term for a senator is a lengthy-term, and his bill would be a 'good mechanism in place to make any senator, current or future, a little more accountable to those who elected him or her.'" Read the bill here.
Romney recently voted in favor of calling witnesses after emerging as the most vocal GOP senator in favor of hearing new testimony as part of Trump's trial. Senator Loeffler (R-GA) blasted Romney on Twitter for this decision, "Sadly, my colleague @SenatorRomney wants to appease the left by calling witnesses who will slander the @realDonaldTrump during their 15 minutes of fame. The circus is over. It's time to move on!" View the tweet below: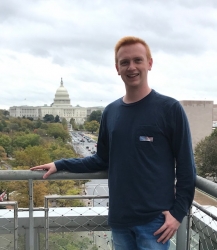 Latest posts by Connor Merk
(see all)