FOURTH UPDATE:
CapEd Credit Union: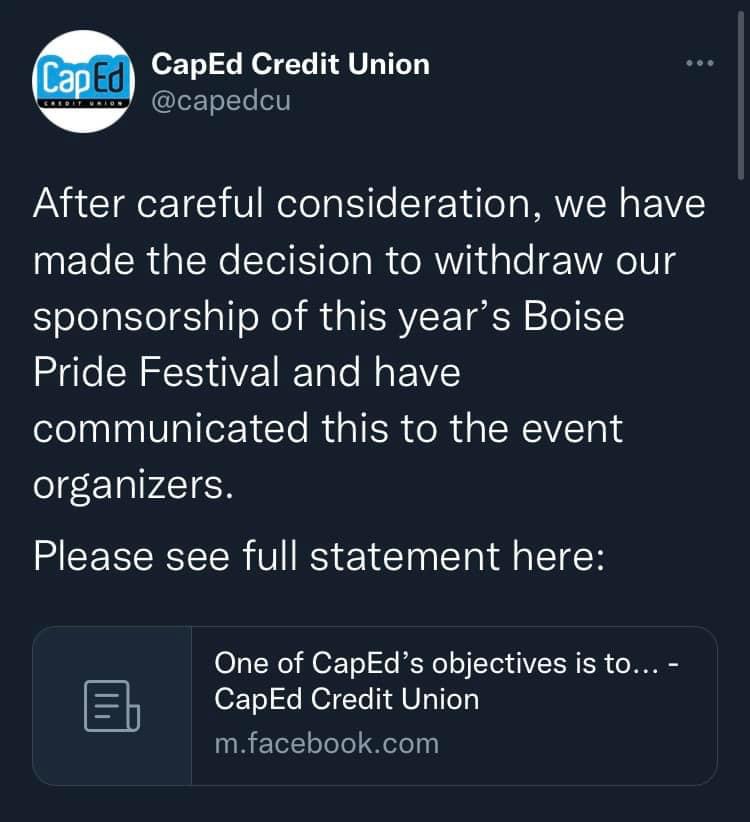 THIRD UPDATE: Idaho Central Credit Union has now backed out: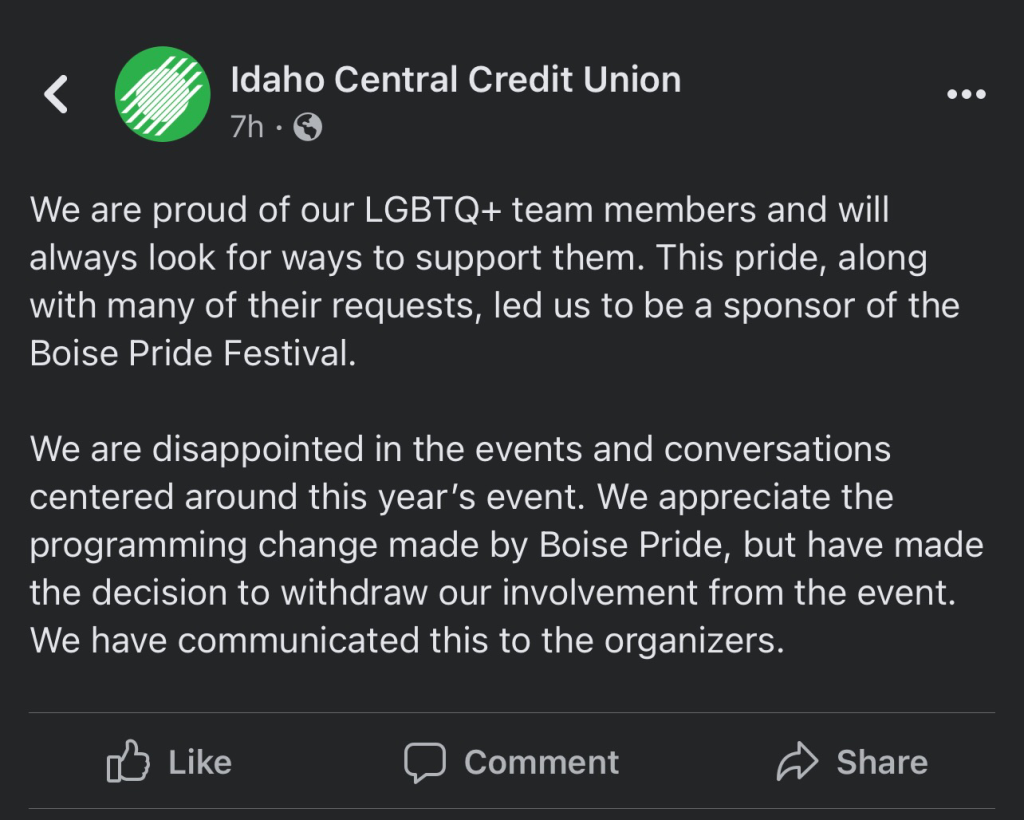 SECOND UPDATE: Idaho Department of Health and Welfare has pulled out: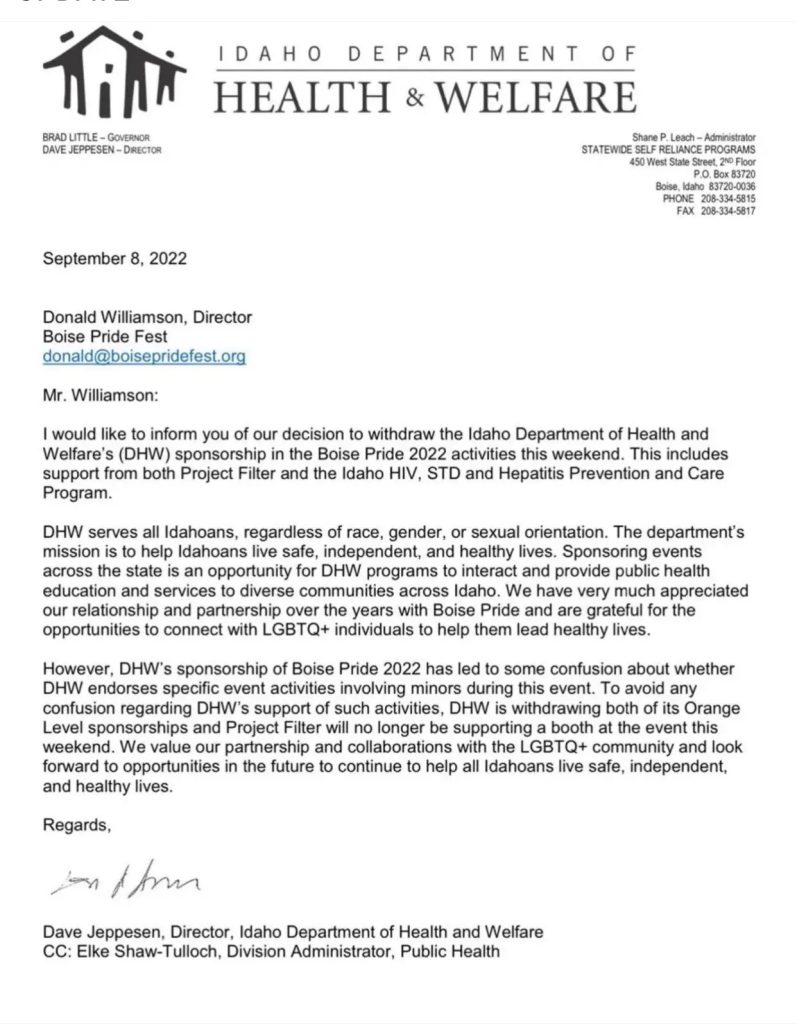 UPDATE: Idaho Power has joined Zions Bank in pulling sponsorship.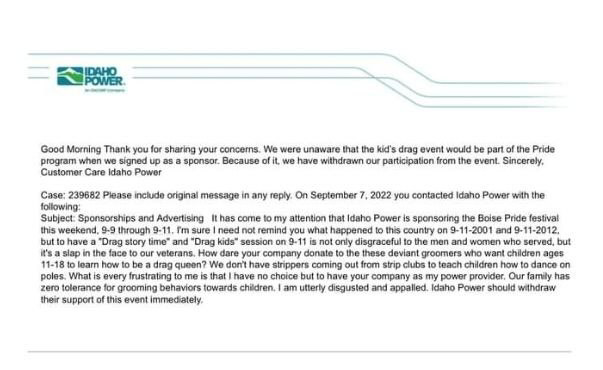 Continue to original story:
On Friday, "Boise Pride Festival" will kick off in the capital city of Idaho. This year will be the 33rd festival since 1989. One of the events at the festival has brought forth concern from many over the sexualization of children. The event causing such controversy is set to take place on Sunday, September 11th, it is titled "Drag Kids".
Wednesday, Zions Bank announced they would be pulling their sponsorship from the festival this year over "activities involving children/minors".
They shared the following statement on Twitter:
"Over the years, Zions Bank has supported a variety of Pride events because they are an important part of our support for our LGBTQ employees and allies and are representative of our efforts to foster an inclusive, diverse and equitable workplace and community. This support for all of our employees and communities remains unchanged. However, when we committed to our sponsorship of this year's Boise Pride event, we were unaware of the event's activities involving children/minors. Since learning of these specific activities, we have made the decision to withdraw our participation in this year's Boise Pride event and have communicated this to the event organizers."
September 7, 2022>
In response to this the organizers issues their own statement:
"Zions Bank has been a valued sponsor and supporter of Boise Pride for many years. We are saddened to learn this is how they have chosen to respond to clearly anti-LGBTQ+ rhetoric and actions. No sponsor at any level of support receives approval of the Boise Pride stage lineup. We have shared our statement on what the Drag Kids performance is and its importance to the identity and self-expression of the LGBTQ+ youth involved as well as those watching. Minors have participated in the Boise Pride Festival both on and off stage for many years. Pride and inclusivity do not begin at age18. It is important for families and LGBTQ+ people of all ages to see themselves reflected in society, on screens, and on stages in positive, affirming ways, and we stand behind our entire Boise Pride entertainment lineup."
Boise Pride's response to the statement from Zions Bank about pulling their participation in this weekend's Boise Pride Festival. #boisepride2022 #supportingoursuperhumans pic.twitter.com/Fm16eCHBIP

— Boise Pride (@boisepride) September 7, 2022
On Tuesday, the radical liberal Mayor of Boise, Lauren McLean, shared her excitement about the festival for "inclusive events for all ages."
"I am proud to celebrate with our LGBTQ+ community at the Boise Pride Festival. Boise Pride, a community-led celebration of embracing who you are, and loving who you love, has grown to be the 2nd largest Pride celebration in the Pacific Northwest. I applaud the organizers, who have planned a weekend full of positive, inclusive events for all ages. We must show our kids and teens that they have a home here, that we welcome them, accept, and support them for who they are, as they are.
Boise is proud to be a welcoming community, striving to ensure a safe, equitable and inclusive city that celebrates the diversity of the people who live, work and play in our community. We embrace, and will fiercely protect, the fundamental dignity of all."
Dorothy Moon, Chairwoman of Idaho's Republican Party issued a statement on Boise Pride Festival and Mayor McLean on Wednesday as well as a follow-up statement on Thursday this week.
"Boise Mayor McLean campaigned as a moderate, but she has governed like her radical colleagues in Seattle and Portland. It's no wonder that she's now put Boise in the middle of a national firestorm over the sexualization of children. To be clear, this is no sleight-of-hand or political wordsmithing: Idaho's Democrat party believes it is not only okay but laudable to encourage children to engage in public displays of sexuality. For those who have been following the radicalization of the Democrat party, this should come as no surprise.
What is surprising is to see who is financing this attack on Idaho's children. Out-of-state companies promise to bring investment and jobs to Idaho. Instead, they are financing the sexualization of our children and the perverse idea that children should engage in sexual performances with adult entertainers. I call on all concerned Idahoans — and the lobbying groups that represent many of these out-of-state businesses who seek tax benefits and subsidies from our legislators, including IACI — to disavow this attack on Idaho's children and to invest their sponsorship dollars in the Boise Rescue Mission that serves families, women fleeing abuse, and disadvantaged children. Children should be given the chance to live out a childhood free from violence, hunger, and the sexual appetites of adults.
Dorothy Moon,
Chairwoman of the Idaho Republican Party"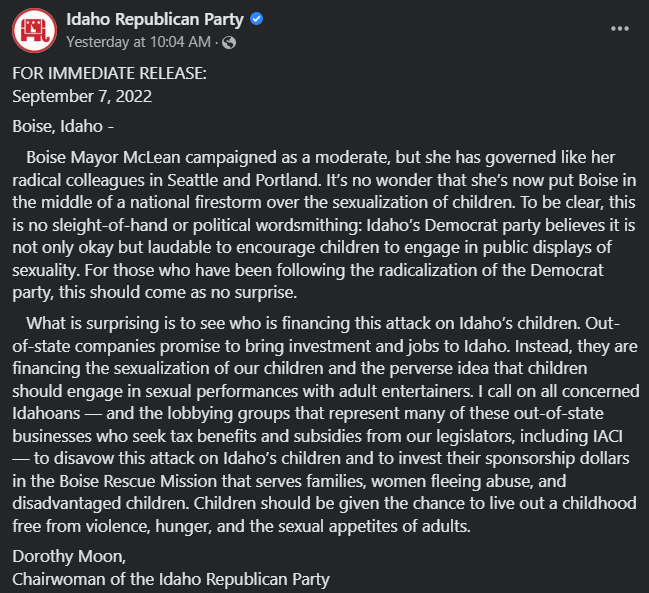 Following Moon's statement Boise Pride lashed out quickly in response:
"We have read Dorothy Moon's statement regarding the Boise Pride Festival and would like to respond. The overwhelming number of companies that sponsor the Boise Pride Festival are local and have a significant local presence. They fell strongly about supporting the LGBTQ+ community and our Pride celebration, and we are grateful for their support.
The drag kids performance is a celebration of self-expression and confidence. The only perversion and sexualization of this performance ar coming from extremists and people like Dorothy Moon, who are twisting it into something it is not. The kids performing have the enthusiastic support of their parents. Often when younger people come out, they struggle with their identity, self-acceptance, and self-expression. Dressing in costume and performing builds that confidence, encourages individuality, and ultimately is empowering. Drag is a powerful form of creative expression and offers a community to youth who are looking to feel accepted and loved, things they often don't experience at home or at school. Seeing others like you on stage offers a beacon of visibility and hope for LGBTQ+ youth, and that is one of the reasons Boise Pride exists and why we celebrate Pride.
We appreciate the support from leaders like Mayor Mclean. It's not a radical liberal agenda to accept people for who they are. It's human."
September 7, 2022
In a follow-up statement from Dorothy Moon, she calls out Legacy Media and their coverage of the controversy.
"Idaho's Legacy Media spent much of yesterday doing what they do best: carrying water for the Radical Left.
Boise State Public Radio, a taxpayer funded radio outlet, tried to tie the Idaho GOP's statement denouncing the sexualization of children in Boise's "drag kid show" to white nationalists.
KTVB defended the Boise Pride Festival's decision to hold their events on 9/11, favorably quoting the Vice-President of the Festival who lamented that a children's drag show held on Labor Day wouldn't draw as large of crowds because college kids are away on the long weekend. "I think there is a small group of people who are upset [with it being held on 9/11]."
The Idaho Statesman did its best to compensate for its slow arrival to the melee (print publication takes time, after all): trumpeting the idea that having children engage in sexual performances with adult entertainers is "empowering." The Statesman also subtly recognized that the decision to hold the festival on 9/11 is largely done to inflate attendance numbers, as attendance is increased by "out of state" college students who have returned to Boise for the school year.
Here are some of the adult entertainers lined up to perform this weekend at Boise Pride Fest. The Idaho Legacy Media, corporate sponsors, and the Idaho Democrat Party call these performers suitable for families and youth.
Slayyyter: https://youtu.be/y6VY9_KvGK0
Monét X: https://youtu.be/jhyriQII3jY
Here's the thing: The Democrat Party, and their enablers in the Legacy Media, can try and obscure what a "kids drag" event is all about. But a picture is worth a thousand words. This weekend, Boise's "Gendertainers" will host Drag Story Time, where adult entertainers dressed in sexually provocative clothing read to children.
The message from the Idaho Republican Party is simple: We oppose the sexualization of children. Full stop.
Dorothy Moon,
Chairwoman of the Idaho Republican Party"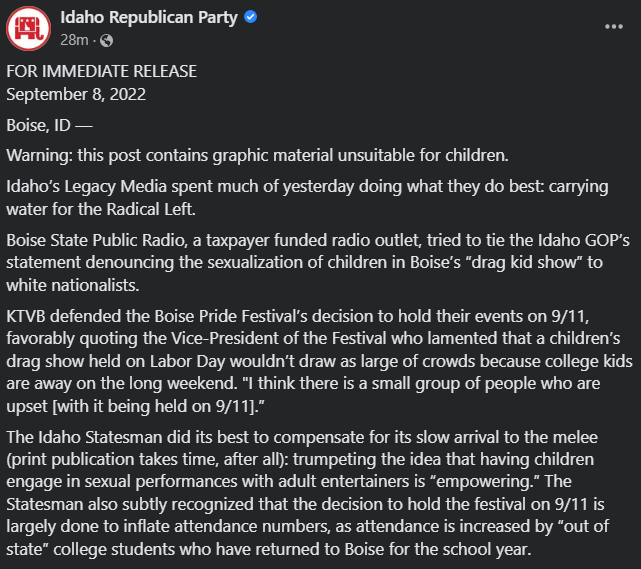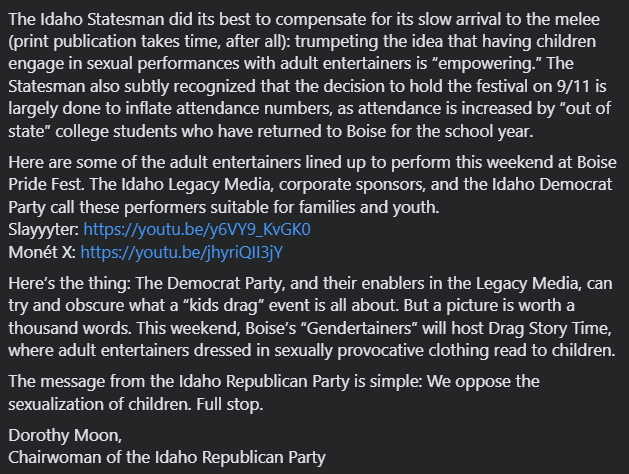 People on both sides feel very strongly, we will see if any other sponsors pull their support from the Boise Pride Festival.
Many on the right hope to see many more local and corporate sponsors to follow in Zions Bank's footsteps and pull their sponsorship.
Latest posts by Kay Williamson
(see all)