According to entrance polls, Democratic presidential candidate Senator Bernie Sanders (D-VT) is projected to win the Nevada Caucus. In the CNN entrance polls, Sanders beats all other Democrats in most categories, such as age, gender, and race. It shows Sanders with 38% of support from men, 30% of support from women, 28% of support from white people, 53% of support from Hispanic people, 66% of support from people aged 17-29, 48% of support from people aged 30-44 and 26% of support from people aged 45-64. Read the entire results here. 
Anti-establishment liberals are celebrating this outcome. Journalist Glenn Greenwald tweeted that despite the intense attacks against Sanders, he still is succeeding. View his tweet below: 
All the anti-Sanders op-eds, the endorsements against him, the warnings from party leaders, the dirty ads from DC groups, the CIA leaks.

None of it matters. They no longer have power. And they know it. That's why they're freaking out.

Their last hope: beg Bloomberg to stop this

— Glenn Greenwald (@ggreenwald) February 22, 2020
After the questionable vote counting crisis in Iowa, the chairman of the Democratic National Committee spoke to reporters to ease the suspicion of mishandling votes. According to USA Today, "[He] told reporters at the Bellagio hotel and casino he expects the Nevada caucuses to go smoothly after issues in the first-in-the-nation contest in Iowa. Tom Perez had been in hot water after the chaos in Iowa that delayed the results from the Feb. 3 race. While speaking with reporters, he reiterated that the party would try to release results as soon as possible but it was possible the results may not be released Saturday."
Perez stated on MSNBC, "Our goal today is to make sure that this day is about the candidates, not about the process. We're at mile one or two of the marathon, 1991 is the magic number," he added, referring to the number of delegates needed to win the nomination. Nevada will send only 48 delegates to the Democratic National Convention.
MSNBC host Chris Matthews raised concerns over Sanders' electability and compares it to France's fall to Nazism in World War II. "I think it is a little late to stop him … I am reading about the fall of France in the summer of 1940 and the general calls up Churchill and says, 'It's over.' and Churchill says, 'How is it over? You've got the greatest army in Europe. How can it be over?' He said, 'It's over.'" Watch this below: 
Chris Matthews compares Bernie winning Nevada to France falling to the Nazis in 1940
pic.twitter.com/qTGajdnr2L

— Daily Caller (@DailyCaller) February 22, 2020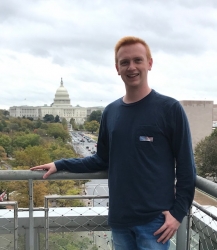 Latest posts by Connor Merk
(see all)