According to the Daily Caller, the DNC reported less than $8.7 million cash on hand and over $7 million debt in an FEC report released Wednesday. The article also stated that the RNC raised nearly three times as much money as the DNC last month, pulling in over $25 million in October while reporting over $60 million cash on hand. Additionally, the joint fundraising effort between the Trump campaign and the RNC has raised over $300 million in 2019 so far and reported over $156 million cash on hand last month.
If fundraising is not turned around, the Democratic Party's head, Tom Perez might be out of a job. The most important role of a party chair is to raise money for the organization. Republicans likely hope that Perez sticks around because he is not able to compete with the RNC and President Trump's fundraising ability. 
Deputy Communications Director for President Trump's re-election commented on how the Democratic nominee will be faced with an apparently tremendous fundraising crisis:
SEE TWEET BELOW:
Big takeaway from tonight -> Nine people on stage will be spared the impossible task of turning this around https://t.co/ZBA9ma7VZh

— Ali Pardo (@alipardo) November 21, 2019
These numbers were released on the same night of the November Democratic debate, where none of the candidates appear to be in a position to defeat President Trump according to some conservative pundits. Fox News personality Greg Gutfeld summarized the debate perfectly when he tweeted this:
SEE TWEET FROM @greggutfeld BELOW:
I hate everything this country has done. okay – can i be a democratic candidate?

— GregGutfeld (@greggutfeld) November 21, 2019
This all begs the question of, despite national polls, how confident does the DNC feel about the 2020 presidential race? Is the impeachment show that's going on now a genuine move that stems from true improprieties by President Trump or a desperate move to try and damage President Trump as a last resort? It will be up to the American voter to decide.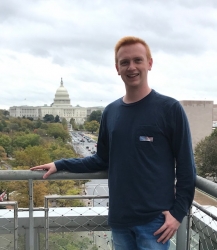 Latest posts by Connor Merk
(see all)