It has been reported that Former Mayor of New York City and Democratic presidential candidate Michael Bloomberg (D-NY) is considering former Secretary of State and presidential candidate Hillary Clinton to be his vice presidential pick. A source close to his campaign released this information to the Drudge Report. According to the Daily Mail, Bloomberg is even considering changing his official residence. "Former New York City Mayor and Democratic candidate Bloomberg is said to be considering even changing his official residence from New York to Colorado or Florida – where he also has homes – because the electoral college makes it difficult for US president and vice-president to reside in the same state."
It also states, "Under the Twelfth Amendment to the US Constitution, which provides the procedure for electing the president and vice-president, it states that the two people could not both inhabit the same state as the elector." They reached out to Bloomberg's campaign and their Communications director replied, "We are focused on the primary and the debate, not VP speculation."
View Matt Drudge's tweet of the scoop below:
EXCLUSIVE: BLOOMBERG CONSIDERS HILLARY RUNNING MATE

Sources close to Bloomberg campaign tell DRUDGE REPORT that candidate is considering Hillary as running mate, after their polling found the Bloomberg-Clinton combination would be a formidable force… https://t.co/XH3TJA9nas pic.twitter.com/wBwRh1hVJH

— MATT DRUDGE (@DRUDGE) February 15, 2020
It has also been reported, that as a result of Bloomberg entering the presidential race, many local and state Democratic campaigns are suffering. This is because of his enormous spending efforts, which includes TV ads and the hiring of staffers. According to The Intercept, "[He] has since spent more than $300 million of his own money in his effort to secure the Democratic nomination. Much of the focus on Bloomberg's historic spending spree has been on the TV ads he's running in at least 29 states … Bloomberg's spending is having a shockingly disruptive effect on Democratic politics throughout the country: He is hiring armies of staffers and canvassers in nearly every state in the country at eye-popping salaries, poaching talent from other campaigns and progressive organizations that are now struggling to fill jobs."
Bloomberg has hired many people in a short period of months. "In just three months, the Bloomberg campaign has hired thousands of people to staff more than 125 offices around the country, the New York Times reported Thursday." View the reported salaries of the Bloomberg campaign compared to the average below:
Bloomberg campaign:

– $72K for field organizer ($42K for other campaigns)
– $12K per MONTH for state political directors
– $10K per MONTH for state press secretaries
– $30K per MONTH for national political director

I can't emphasize enough how insane these salaries are.

— Caleb Hull (@CalebJHull) February 14, 2020
Bloomberg has sky-rocketed in polls all across the country. According to the RealClearPolitics average of polls, he is at 14.2% nationally. Additionally, FiveThirtyEight keeps track of the endorsements for each Democratic presidential candidate. Bloomberg now has the second-highest amount of "points" according to their system. He has been endorsed by Governors, Mayors, and Congressmen from all over the country. View the count here.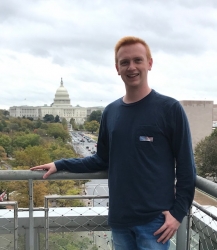 Latest posts by Connor Merk
(see all)