Coming off the win of being acquitted at the Senate impeachment trial and having high approval ratings, President Donald J. Trump has traveled to Daytona Beach, Florida to serve as the Grand Marshal of the Daytona 500. Several presidents have attended NASCAR races, but Trump is the only one to be given the honorary role of Grand Marshal. According to Fox Business, "Former President George W. Bush attended the Daytona 500 in 2004. His father, former president George H.W. Bush, attended a July race at Daytona in 1992 and Ronald Reagan attended a race in 1984."
Watch the video of Air Force One arriving below:
??? pic.twitter.com/COBdI2o5dq

— Team Trump (Text TRUMP to 88022) (@TeamTrump) February 16, 2020
According to the Associated Press, "Trump's reelection campaign will run a TV ad during the Fox broadcast of the race and fly an aerial banner near the speedway. About 100,000 people are expected to attend this year's race and millions more will watch on television. About 9 million people took in last year's race on television."
In recent months, Trump has attended many major sporting events. The president previously attended the NCAA College Football Playoff's national championship game in January, the Army-Navy college football game in December, the Alabama-LSU college football game in November and the World Series in October.
Watch the video of the president and First Lady Melania Trump coming off Air Force One below:
.@realDonaldTrump has landed In Daytona Beach. Heading for the Daytona 500 where he'll tell the drivers to start their engines. More on his visit tonight on @WESH pic.twitter.com/OKM84BerbR

— Paul Rivera (@PaulRiveraNews) February 16, 2020
The video below shows the president begin his lap at the Daytona 500 in 'the Beast':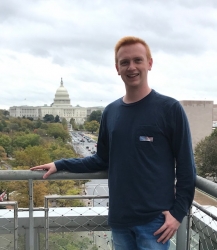 Latest posts by Connor Merk
(see all)