Democratic presidential candidate and former Vice President Joe Biden sparred with a voter in New Hampshire, two days before they vote in their primary election. The encounter began when the voter asked, "How do you explain the performance in Iowa and why should the voters believe that you can win a national election?" "You ever been to a caucus?" Biden responded. The voter said they have attended a caucus when Biden replied, "No you haven't. You're a lying dog-faced pony soldier."
After a New Hampshire voter asks @JoeBiden why they should trust he can turn his campaign around, he asks if she's ever been to a caucus before; when she says yes, Biden snaps: "No you haven't. You're a lying dog-faced pony soldier." pic.twitter.com/3uxOAu0Ues

— Tom Elliott (@tomselliott) February 9, 2020
He then said, "You gotta be honest. I'm gonna be honest with you. It was a little bit confusing in Iowa. But let's assume it was all exactly right. "You have to take the first four as one," Biden says of the early primary-season states of Iowa, New Hampshire, Nevada and South Carolina. "Not a single person has won without overwhelming support from the black community, overwhelming, overwhelming. Ok? … Right now I am far and ahead in the African-American community … it remains to be seen." View the encounter below:
Biden has a history of name-calling and attacking attendees of his events, such as calling a voter "fat" and challenging him to a push-up contest when they questioned his son's work in Ukraine while he was Vice President. View that encounter below:
BREAKING: Biden lashes out at Iowa voter, calls him fat pic.twitter.com/6icqExd3zV

— Jack Posobiec ?? (@JackPosobiec) December 5, 2019
At a rally in Iowa on February 1st, Biden was asked by a voter for marriage advice and when the attendee remained standing Biden said, "I'm beginning to see why your wife left you." View that statement below: 
Biden to Voter in Iowa:

"I'm beginning to see why your wife left you"

pic.twitter.com/GrThNKgFlz

— Benny (@bennyjohnson) February 1, 2020
Biden's campaign is heavily relying on winning in New Hampshire, South Carolina, and Nevada to make-up for this fourth-place finish in Iowa last week. According to C-SPAN, Biden only received 6 delegates, while Buttigieg has 13, Sanders has 12, and Warren has 8. A candidate needs 1,978 delegates to become the Democratic Party presidential candidate.
As of February 9, the RealClearPolitics average of New Hampshire polls has Sanders at 26.1%, Buttigieg at 21.3%, Warren at 13.4%, Biden at 12.7%, Klobuchar at 8.7% and the rest of the candidates at or below 3%. New Hampshire votes this Tuesday, February 11.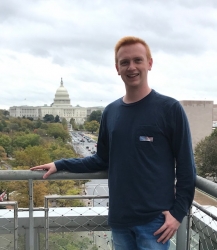 Latest posts by Connor Merk
(see all)