The New York Times reported on the disarray of Senator Kamala Harris's (D-CA) presidential campaign. It included the recent resignation letter of the campaign's operations director Kelly Mehlenbacher. Mehlenbacher stated, "This is my third presidential campaign and I have never seen an organization treat its staff so poorly," Mehlenbacher wrote. "With less than 90 days until Iowa, we still do not have a real plan to win."
WATCH VIDEO BELOW:
Washington Post White House reporter Toluse Olorunnipa had some unflattering opinions of what lead to Harris's demise in the above CNN video. "It's been difficult to follow her campaign because there have been so many different messages," he says. He then goes on to describe what he sees as an inner struggle with Kamala to decide if she wants to be a radical 'California progressive' or more of a moderate, noting that even without her indecisions, "both of those lanes are clogged up". "It makes it difficult for any voter to stick to her when there are so many other options", he wraps up his comment with.
According to the RealClearPolitics average polls, Harris is polling at 3.8% nationally. This is a major decline from when she was polling at 15% in July. View the polls here.
Many of the candidates running in the Democratic primary for 2020 are struggling with raising money, specifically Harris. According to Politico, "Harris ran a deficit in the third quarter, spending close to $3 million more than she took in." Additionally, "Harris deferred payments of $911,069 to her consultants and lawyers at the end of the cycle, leaving the campaign with debts totaling nearly seven figures." View the rest of the fundraising statistics for the other candidates here.
Many people believe that Harris's downfall is a result of Representative Tulsi Gabbard (D-HI) attacking Harris's record as attorney general of California. Gabbard ended the confrontation when she stated, "The bottom line is Senator Harris when you were in the position to make a difference and an impact in these people's lives, you did not and worse yet, in the case of those who were on death row, innocent people, you actually blocked evidence from being revealed that would have freed them until you were forced to do so … And the people who suffered under your reign as prosecutor, you owe them an apology." Watch the entire encounter below:
Ever since that take-down, Gabbard has been attacking Harris relentlessly. An example is her response to Harris denouncing Gabbard for appearing on Fox News. Gabbard tweeted this response below:
Hypocrisy much? At the debate a week ago, Kamala trashed Tulsi for going on FOX News. Yet she shamelessly went on FOX twice in the last week. Oh well, they say imitation is the sincerest form of flattery. —V (Tulsi's sister) https://t.co/B4IUJuYZ1m

— Tulsi Gabbard (@TulsiGabbard) November 30, 2019
This strategy appears to be working because, in a recently released Emerson Poll of New Hampshire, Gabbard is polling at 6%, while Harris is at 4%. This poll also shows Senator Bernie Sanders (I-VT) and Mayor Pete Buttigieg leading the crowd with both polling above 20%. View the poll below:
NH POLL: @BernieSanders leads #NewHampshire primary, followed by @PeteButtigieg https://t.co/CpRJCGRgBG pic.twitter.com/ZiF9KBT9gL

— Emerson Polling (@EmersonPolling) November 27, 2019
Media Right News has covered more than one of Senator Harris's speed bumps along the way of her grueling campaign that appears to be sputtering out. Earlier this year President Trump released a campaign video comparing all the Democrats in the 2020 presidential field, including Harris, as being "all the same". This supports Washington Post reporter Toluse Olorunnipa's opinion earlier in this article and in the CNN video posted above of a crowded field being a major hurdle for so many vying for the "honor" to run against President Donald J. Trump in 2020, assuming the Democrats fail to impeach and remove him before then.
Kamala's troubles snowballed with other, more direct tribulations falling on her campaign, many of which were her own fault or that of one of her staffers, such as attending an Iowa steak fry with 10,500 steaks, shortly after railing against how much red meat Americans eat, along with many of the other candidates. Later, a former South Carolina police chief and African American asserted that candidates Joe Biden and Bernie Sanders, two white men, were more popular among black voters in the key voting state of South Carolina than Harris, with some polls backing up those assertions.
All this and other things like a sloppy staff member leaving behind a talking points memo with telling statements of her campaign struggles, weak potshots at President Trump that didn't resonate very well and other issues made for a rough run for Harris.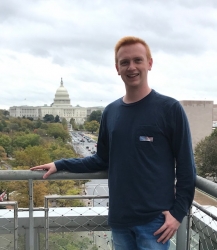 Latest posts by Connor Merk
(see all)