New reports were released yesterday by the U.S. Park Police (USPP) concerning President Trump's infamous photo-op outside St. John's Church. On June 1st, 2020, President Trump, accompanied by Secret Service, walked from the White House to Lafayette Park to take a photo in front of St. John's Church which had been damaged by a fire lit by demonstrators the night before. Mainstream media groups reported that Trump and Secret Service aggressively and violently removed protestors from the area and spun the story to taint Trump's image. However, this report details that the USSP had cleared the area surrounding the park to "allow a contractor to safely install antiscale fencing in response to destruction of Federal property and injury to officers that occurred on May 30 and May 31."
Within minutes of the report's release, former Pres. Trump has responded through his office. https://t.co/gtbYKYNtPk

— ABC News (@ABC) June 9, 2021
The report explains that this operation had been planned "several hours before they knew of a potential Presidential visit to the park". The report, "did not support a finding that the USPP cleared the park…so that then President Trump could enter the park." This narrative was never portrayed by mainstream media groups like the New York Times and CNN. NYT framed the June 1st scene as if peaceful protestors were attacked, violently for no good reason. CNN's Daniel Day labeled the now-verified narrative as "false" last year. Both the NYT and CNN have yet to issue any kind of retraction. President Joe Biden also had attacked Trump without real facts backing his claims.
Seems a good time to revisit this one @nytimes https://t.co/WlEkkjdn31

— Drew Holden (@DrewHolden360) June 10, 2021
Van der Veen falsely claims the clearing of Lafayette Square last June happened to "establish an appropriate security perimeter" from a "riotous mob." No. They cleared peaceful protesters out of the way for a Trump photo-op. The "narrative" van der Veen is mocking is correct.

— Daniel Dale (@ddale8) February 13, 2021
He's using the American military against the American people.

He tear-gassed peaceful protesters and fired rubber bullets.

For a photo.

For our children, for the very soul of our country, we must defeat him. But I mean it when I say this: we can only do it together. https://t.co/G1yE67q9Nz

— Joe Biden (@JoeBiden) June 2, 2020
The USPP did not allege that law enforcement acted inappropriately by removing demonstrators from the park. However, the report speculates that demonstrators may not have heard the dispersal orders, which "may have contributed to confusion during the operation and the use of tactics that appeared inconsistent."
Police did not clear Lafayette Park area so former Pres. Trump could hold "Bible" photo op, according to new watchdog report.

"This was obviously a particularly a tumultuous event in a tumultuous time," Interior Dept. Inspector General Greenblatt says. https://t.co/E9YPpDV2U5 pic.twitter.com/lydxZqdxyC

— ABC News Live (@ABCNewsLive) June 9, 2021
The USPP report affirmed, that they did not know the President would walk through the park when he did. Attorney General Bill Barr reportedly ask a Park Police commander about this, saying, "Are these people still going to be here when POTUS comes out?" The commander replied, "Are you freaking kidding me?" the report reads.
Minutes after the USPP released this report, President Trump issued a statement praising it. Trump's statement reads, "Thank you to the Department of the Interior Inspector General for Completely and Totally exonerating me in the clearing of Lafayette Park!"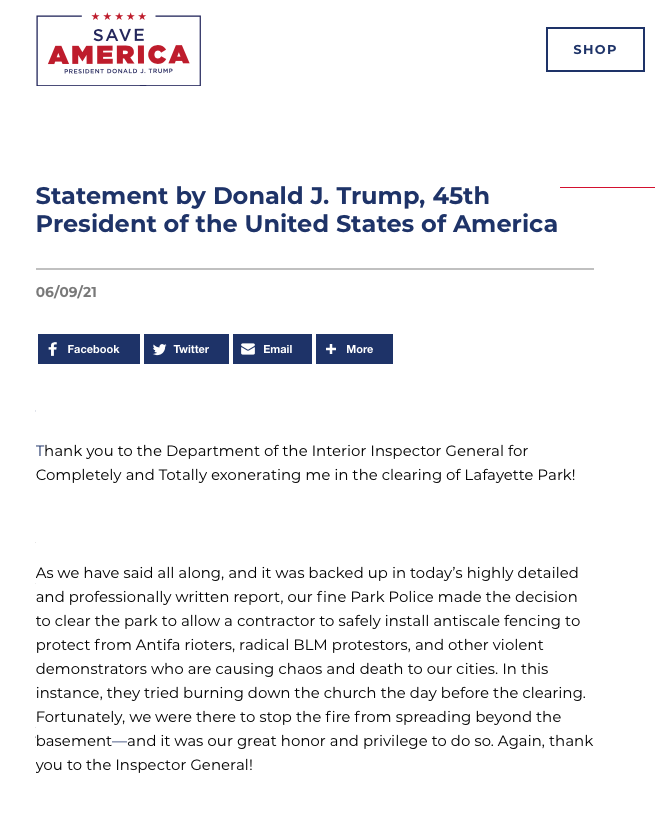 Stay tuned to Media Right News for any updates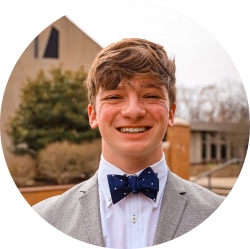 Latest posts by Paul Aubert
(see all)