O.J. Simpson tells LeBron James, "Wait for the Facts!". In a video O.J. posted to Twitter he says he is a fan of LeBron but that he got it wrong by coming out against the officer who shot Ma'Khia Bryant. Simpson also says he is not in favor of defunding however he is all for redirecting funds for training.
If you were unaware of what O.J. is talking about, we reported earlier about a tweet that Lebron James sent out about the incident in Ohio. LeBron quickly removed the tweet. As we reported earlier:
A police officer in Columbus, OH shot and killed a 16-year-old girl who, according to bodycam footage swung at two other people with a knife yesterday and appeared ready to stab another teenage girl when she was shot….
Wait for the facts! #LeBronJames pic.twitter.com/As2zaGQD4M

— O.J. Simpson (@TheRealOJ32) April 22, 2021
A picture has been circulating on Twitter that purports to show the officer that the shot the girl, and thereby potentially saved the others.
NBA superstar LeBron James, who has been outspoken on social justice in recent years, tweeted out that picture and said in the tweet, "You're next." He also shared an hourglass emoji and said "#ACCOUNTIBILITY."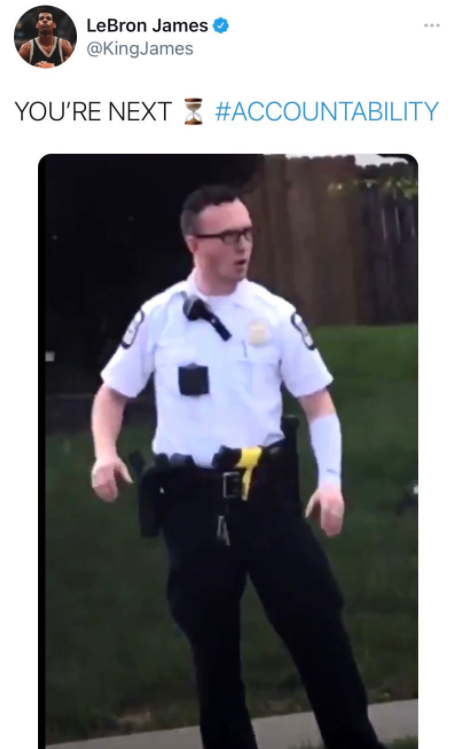 The reactions to James' tweet were mixed, however, the most popular appeared to show a still of the bodycam footage showing the shooting "victim" holding the knife, ready to attack.
April 21, 2021
Wait for the facts were the words that came from Simpson. Simpson was subjected to verdict by the public before his case went to court as many remember. Simpson was found not guilty in the criminal case however was made to pay in the civil suits regarding the murder of his ex-wife Nicole Brown and Ron Goldman. The criminal case captivated the nation at the time and was later made into a movie.
Some may believe that LeBron was amped when he tweeted that as Derek Chauvin was found guilt on all three accounts in the death in of George Floyd that sparked rioting across the country last year. Another case that captivated the nation and may be back to court in an appeal thanks to Congresswoman Maxine Waters.
Stay tuned to Media Right News.
Latest posts by Kay Williamson
(see all)