According to the Washington Examiner, "In an interview with the Brattleboro Reformer in 1972, Sanders, then 31, said Wallace 'advocates some outrageous approaches to our problems, but at least he is sensitive to what people feel they need.' Sanders, now a Vermont senator and 2020 Democrat, said, 'What we need are more active politicians working for the people.'"
The article also provides a stark comparison between Sanders' and Biden's thoughts on Wallace. Biden is quoted to have said that he would support the Republican nominee if Wallace was the Democratic presidential candidate in 1974. 'If Wallace got the [Democratic nomination], I would support the Republican nominee, if it were Gerald Ford,' said Biden, then 34 and in the fourth year of his 36-year Senate career, which preceded two terms as President Barack Obama's vice president. In 1974, Biden also pledged to stop Wallace from winning the nomination in the next presidential race. 'Over my dead political body is George Wallace going to get it,' Biden said. The Washington Examiner Twitter account also tweeted a famous quote from Wallace in regard to segregation. View the tweet below: 
"Segregation now, segregation tomorrow, segregation forever."

–George Wallace in his 1963 inaugural address as governor.@BernieSanders praised the segregationist. https://t.co/MoaZZ5lgAZ

— Washington Examiner (@dcexaminer) January 30, 2020
Obama 'White House & campaign alum' (according to his Twitter) Christopher J. Hale criticized Sanders in a tweet responding to the story, "Some of Bernie Sanders' biggest supporters argue the best thing about him is that his positions haven't changed for fifty years." View the tweet below: 
Some of Bernie Sanders' biggest supporters argue the best thing about him is that his positions haven't changed for fifty years. https://t.co/pZf4WPMqZ5

— Christopher J. Hale (@chrisjollyhale) January 30, 2020
Wallace was a Democratic Party politician and four-time governor of Alabama who led the South's fight against federally ordered racial integration in the 1960s. He ran for president in the 1968 election as the American Independent Party candidate with the goal of continuing segregation in the United States. He also unsuccessfully sought the Democratic Presidential nomination in 1964, 1972 and 1976.
Later in his life, Wallace said of his stand in the schoolhouse door, "I was wrong. Those days are over, and they ought to be over." He publicly asked for forgiveness from black people. During Wallace's final term as governor of Alabama (1983–1987), he made a record number of black appointments to state positions, including, for the first time, two black people as members in the same cabinet.
In July of 2019, former Vice President Joe Biden apologized for remarks in which he had positive words for segregationists. According to the New York Post, "[Biden] mentioned segregationist Senator James Eastland, going on to imitate a Southern accent and claiming that the pol 'never called me 'boy,' which is considered a derogatory term against black men. 'Should that misstep define 50 years of my record? I hope not,' he said, referencing his praise of Eastland." Eastland was a Democratic Senator who represented Mississippi from 1941 to 1978. He served as Chair of the Judiciary Committee for 23 years.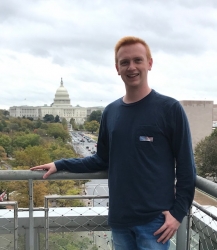 Latest posts by Connor Merk
(see all)