United States Senator Ted Cruz (R-TX) took a stand on the Senate floor today against a Hong Kong refugee bill popular among senators, citing the threat of spies and open borders. Below is the clip from his Senate floor speech today.
Senator @tedcruz Objecting To & Blocking Hong Kong Refugee Bill, Warning About The Spy Threat From Beijing & Blasting The Open-Borders Agenda Of The Democrats

"This bill advances that long-time partisan political agenda that the Democrats have." pic.twitter.com/CAvI0v8gRP

— The Columbia Bugle 🇺🇸 (@ColumbiaBugle) December 19, 2020
The bill was led by Senator Richard Blumenthal (D-CT) but did not pass as Cruz was the only Senator to stand up against the bill. In turn, he stopped the globalist bill from passing which would allow up to seven million Hong Kong citizens to come here but this bill was, of course, stopped by Cruz.
Cruz said, "This is not a Hong Kong bill, it is instead a Democratic messaging bill because house Democrats made, I think a cynical decision to try to exploit the crisis in Hong Kong to advance their long-standing goals on changing our immigration laws."
He followed that by saying, "It is not news to anyone who has been watching the political battles of recent years to discover that our Democratic colleagues embrace open borders, that when it comes to illegal immigration, their preference is to make all immigration legal. This bill advances that long time partisan political agenda that the Democrats havez"
Cruz seems to be critical of how this bill would change our immigration laws. Although Cruz supports Hong Kong, he understands the consequences of this bill to our immigration system and possible Chinese spies entering this country.
It is worrisome to see only one GOP Senator stand against this bill as it would favor the Democrat's policy of open borders. The GOP seems to be focusing on virtue signaling to the people of Hong Kong instead of being immigration hawks and standing for strong borders.
It is surprising to see Cruz of all Senator, be a lone wolf on this bill as he has never been known as an immigration Hawk. While Cruz does support the people of Hong Kong, he realizes the consequences of this bill and how it could leave us prone to more Chinese spies coming into the country.
Many on the right were happy to see Cruz take a stand against the political establishment and persevere our immigration laws.
Thank you @tedcruz https://t.co/9mtlH5CC88

— Ryan James Girdusky (@RyanGirdusky) December 18, 2020
Stay tuned to Media Right News for more updates.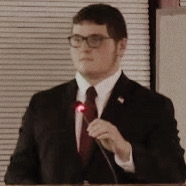 Latest posts by Joshua Troiano
(see all)