President Trump spent his Thanksgiving in Afghanistan, but members of the media were quick to assume how and where he was going to spend the holiday. It was reported by Jessica Kwong, who is a political reporter for Newsweek that President Trump spent his Thanksgiving by "Tweeting, golfing, and more." Kwong corrected her story when it became known that President Trump secretly traveled to Afghanistan. See her correction below.
Trump headed to Afghanistan to surprise U.S. troops on Thanksgiving https://t.co/f7Xeqz1ZGQ Deleting this tweet because it was written before knowing about the president's surprise visit to Afghanistan-an honest mistake. Story has already been updated, as shown in the screenshot. pic.twitter.com/g9CfPaV2kQ

— Jessica Kwong (@JessicaGKwong) November 29, 2019
President Trump and his son Donald Trump Jr. responded to the incorrect news by tweeting, "I thought Newsweek was out of business?" See their tweets below.
I thought Newsweek was out of business? https://t.co/3ro4eSJloo

— Donald J. Trump (@realDonaldTrump) November 29, 2019
According to an article published by CBS News, "Mr. Trump arrived at Bagram Air Field shortly after 8:30 p.m. local time and spent more than two-and-a-half hours on the ground, speaking to troops and meeting with Afghanistan's president." Also, while in Afghanistan, President Trump said he hopes to bring the number of troops in Afghanistan down to 8,600 from the current 14,000.
President Trump released a video of the trip on his Twitter account. View it below.
HAPPY THANKSGIVING! pic.twitter.com/7SGZnHindW

— Donald J. Trump (@realDonaldTrump) November 28, 2019
This trip was under immense secrecy because of the type of location he was going to. According to an article published by Politico, "Cell phones, hotspots and any other devices emitting a signal were confiscated from everyone traveling on Air Force One." Additionally, "12 of the 13 journalists who traveled with Trump were picked up on the roof of a public parking garage near Joint Base Andrews just outside Washington and not even told where they were traveling until just before they arrived in Afghanistan."
Afghanistan President Ashraf Ghani met with President Trump on the base earlier, as the president announced the resumption of peace negotiations with the Taliban. Ghani spoke to the crowd and mentioned the death of al-Baghdadi. "President Trump, people talked a lot about bin Laden, but what you did to eliminate [Abu Bakr] al-Baghdadi who was an organizer and not a talker, is a much greater accomplishment," he said.
A spokesperson for the Afghan President tweeted out photos from President Trump and President Ghani's discussion. See below.
President Ashraf Ghani @ashrafghani met with the U.S. President this evening in Bagram. pic.twitter.com/vtEIRUCLXw

— Sediq Sediqqi (@SediqSediqqi) November 28, 2019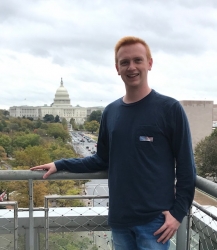 Latest posts by Connor Merk
(see all)