President Donald Trump made a trip to Walter Reed National Military Medical Center in Bethesda, Maryland on Saturday, Nov. 16. White House press secretary Stephanie Grisham stated it was to "begin portions of his routine annual physical exam."
According to an article published by KMBC, "Trump's last checkup in February 2019 showed he had gained weight in office. At 243 pounds and 6 feet, 3 inches tall, he passed the official threshold for being considered obese, with a Body Mass Index of 30.4. That checkup, which was supervised by Dr. Sean P. Conley, his physician, took more than four hours and involved a panel of 11 specialists. 'I am happy to announce the President of the United States is in very good health and I anticipate he will remain so for the duration of his Presidency, and beyond,' Conley stated afterward."
SEE TWEET BELOW:
I simply don't buy it. does anyone have a "first phase" of annual exam months before it is due? No. https://t.co/VyE1uXQCku via @nbcwashington

— Jennifer Rubin (@JRubinBlogger) November 17, 2019
According to an article published by Breitbart, many people are speculating that the visit was not in regards to the physical exam. On Monday, "CNN Newsroom" anchor Brooke Baldwin questioned Dr. Jonathan Reiner, the cardiologist for former Vice President Dick Cheney about President Trump's unannounced trip to Walter Reed Medical Center. 
Dr. Reiner stated, "I'm skeptical. I think skeptical is the right word. Think about it this way: The president of the United States has access to multiple physicians on-site, on Saturday afternoon goes unannounced to a medical center. It's worrisome. It's worrisome."
The Trump campaign team does not seem worried about the visit after they tweeted this: 
BREAKING: An X-Ray image has been released from President @realDonaldTrump's visit to Walter Reed

Surely @CNN can stop the hysteria now! pic.twitter.com/KTuHczh0ih

— Team Trump (@TeamTrump) November 18, 2019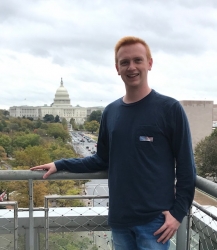 Latest posts by Connor Merk
(see all)