In a statement given to Colorado Politics, Senator Cory Gardner (R-CO) stated that he does not believe the Senate needs to hear from an 18th witness. "I have approached every aspect of this grave constitutional duty with the respect and attention required by law, and have reached this decision after carefully weighing the House managers and defense arguments and closely reviewing the evidence from the House, which included well over 100 hours of testimony from 17 witnesses," Gardner stated.
According to Colorado Politics, it takes 51 votes to call witnesses or subpoena documents, "Four Republicans will have to join the 47 Senate Democrats and independents who have said senators should consider more evidence before deciding whether to remove Trump on charges he abused his power and obstructed an ensuing congressional investigation."
His statement comes a day after Senate Majority Leader Mitch McConnell (R-KY) stated that he may not have enough votes to block additional witnesses in the Senate impeachment trial. According to Reuters, "Republican leadership is confident it can win over the necessary GOP votes by Friday, CNN reported. The party says calling witnesses would extend the trial indefinitely."
Also, "Senate Democrats want at least four key witnesses, including former national security adviser John Bolton and acting White House chief of staff Mick Mulvaney, to testify. The vast majority of Republicans oppose calling witnesses, but some GOP senators have expressed willingness to break with their party on the issue."
Additionally, several Democratic senators have remained unsure if they will vote to acquit or remove President Trump, such as Senators Manchin, Sinema, and Jones. Each of those senators represents states that voted for President Trump in 2016. According to a National Review article, Manchin has said, "'I know it's hard to believe that. But I really am [undecided]. But I have not made a final decision. Every day, I hear something, I think 'this is compelling, that's compelling,' Manchin said on Tuesday, according to Politico. 'Everyone's struggling a little bit.'" Manchin has also stated that he believes Hunter Biden is a relevant witness. View his interview on MSNBC's Morning Joe below: 
.@WillieGeist asks @Sen_JoeManchin if Hunter Biden is a 'relevant witness.' Sen. Manchin responds: "I think so; I really do." pic.twitter.com/ZESiUMWTWc

— Morning Joe (@Morning_Joe) January 29, 2020
Gardner is facing tough re-election prospects as Colorado voted for former Secretary of State Hillary Clinton with 48.2% of the vote and roughly 136,000 more votes than President Trump. View the Colorado 2016 results here. Gardner was elected in the Republican wave of 2014 in a close race against incumbent Senator Mark Udall, a member of the Udall family, which is an elite political family in the Western United States.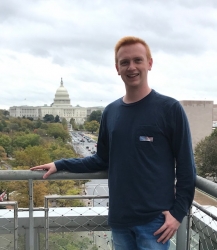 Latest posts by Connor Merk
(see all)