A segment on The View recently began with a pre-taped interview of Holocaust survivors Mikhil and Millie Baran who shared their life story. In the interview, they spoke about how members of their own family were killed by the brutal Nazi regime.
Mikhil joined the Ukrainian Army to fight the Nazis, while Millie and her mother were in a concentration camp and liberated by Russian forces in 1945. Several years later, they met and immediately fell in love. They are almost 75 years married and have 2 children, 3 grandsons and 2 great-grandchildren.
The first question asked was from Joy Behar who referenced Millie in the interview who said it took her years to be granted access to the United States, "You had to wait over four years before you could come into this country," Behar said.
Then Millie replied that it was four and a half years. Behar continued, "You know, some people are experiencing that right now in our country. These children are at the border and they're not letting people in. And it's just tragic to me and to you, I'm sure. Would you like to speak to that at all?"
Millie responded by saying, "When I saw it on television, I couldn't believe it, and my heart was aching as a mother." Millie then changed the conversation by mentioning who wouldn't want to come to America, "A land of opportunity, of freedom. To us, it was a dream to get here. Naturally, it was worth it to wait because when we came here, I practically kissed the earth," Millie said.
View the heart-felt interview and exchange below:
The Washington Examiner covered the strange line of questioning. They had this to say in addition to tweeting out the story earlier today:
"Behar, 77, has previously compared President Trump's immigration policy to Nazi policies. In July, the host said immigration raids were similar to Nazi raids on Jewish families. Sen. Michael Bennet, who was a part of the segment, hit back at Behar, saying his family survived the Holocaust, and he did not think there was any comparison. The View host has a history of ruffling feathers with her remarks. Earlier this month, she praised white nationalist Richard Spencer after he said he was ending his support for Trump."

Washington Examiner
A holocaust survivor said she "couldn't believe it" and that her "heart was aching" when she saw children separated at the border. https://t.co/aZ4p7YEXL2

— Washington Examiner (@dcexaminer) January 29, 2020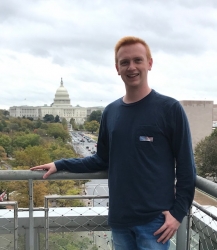 Latest posts by Connor Merk
(see all)