In a rare pushback against cancel culture, Loudoun County Public Schools was ordered by a judge to reinstate Byron Tanner Cross, a P.E. teacher who was suspended and barred from campus property days after he informed the school board that he would refuse to refer to transgender students by their preferred pronouns because they contradict his religious beliefs.
During Cross' speech before the school board he said, "I will not affirm that a biological boy can be a girl and vice versa because it's against my religion. It's lying to a child, it's abuse to a child and it's sinning against our God. I'm a teacher, but I serve God first."
The original school board speech that got him suspended. WATCH⬇️ pic.twitter.com/FPn4oqLjLP

— Tim Swain (@SwainForSenate) June 8, 2021
Loudoun Circuit County Judge James Plowman ruled that the school unconstitutionally suspended Cross and that their actions were "extreme". Plowman ruled that Cross "was speaking as a citizen, not in his official capacity…during nonworking hours at a forum where public comment was invited." Plowman continued, "the Plaintiff's interest in expressing his First Amendment speech outweighs the Defendant's interest in restricting the same… [Cross] did not serve to meaningfully disrupt the operation or services of Leesburg Elementary School."
The school system had disputed the idea that Cross was fired over his religious beliefs. The school argued that Cross was fired due to the disruption he caused, not over his ideals. Allegedly, the school system had received six emails from parents requesting that their children not have any contact with the physical education teacher, Cross. Interestingly enough, the day after Cross's speech, he went to work and there seems to be no evidence showing that his presence was disruptive. Plowman said, "There was simply an absence of evidence – no actual disruption to school operations occurred."
Plowman continued attacking the school's handling of the situation. The school system decided to send an email out notifying all parents of Cross's suspension. Plowman said that the email was "an action the Court sees as an unnecessary and vindictive act given the end of the school year was so close."
Concluding his remarks, Plowman granted Cross and his lawyers request for a temporary injunction, saying, "Defendants shall immediately reinstate the Plaintiff to his position as it was prior to the issuance of his suspension and remove the ban that was placed upon him from all buildings and grounds of Loudoun County Public Schools."
A spokesman from the school system had no comment when approached by WTOP: "Loudoun County Public Schools will have no comment".
Cross's speech seemed to have struck a fuse in the school system and amongst the parents. Debates over Critical Race Theory are occurring often across America's school systems. Yesterday, the Loudoun Country school board held a meeting and it was filled with attendees.
I'm at a Loudoun County school board meeting. Packed room. A debate over critical race theory in schools has divided this community in recent weeks. Tonight, for the first time in the pandemic, the public was allowed back in to these meetings. pic.twitter.com/w7zslWN0FM

— amna (@IAmAmnaNawaz) June 8, 2021
Protestors against CRT rallied outside before the meeting.
Protestors started gathering outside long before the meeting began. Parents who oppose the district's equity efforts as they've been rolled out are organizing to oust school board members. pic.twitter.com/DRN37Q3goL

— amna (@IAmAmnaNawaz) June 8, 2021
Allegedly, 121 parents signed up to speak at the meeting. Roughly 30 minutes in the school board members adjourned due to yelling, clapping, booing, interrupting, and general rowdiness in the crowd.
Couldn't even get through the first 30 minutes of comments without crowd yelling, interrupting, clapping, some boos. School board members just adjourned "so the room can find its decorum" and left the room.

The room is unhappy. pic.twitter.com/sOQbbmXenP

— amna (@IAmAmnaNawaz) June 8, 2021
Once the board members returned, passionate parent after passionate parent attacked the school system, saying: "I will fight to the bitter end…if you teach my children that they are racist just because they're white", "[you're] training our children to be social justice warriors [and] to hate our country" and "We will not yield. We will not let you have the souls of our children."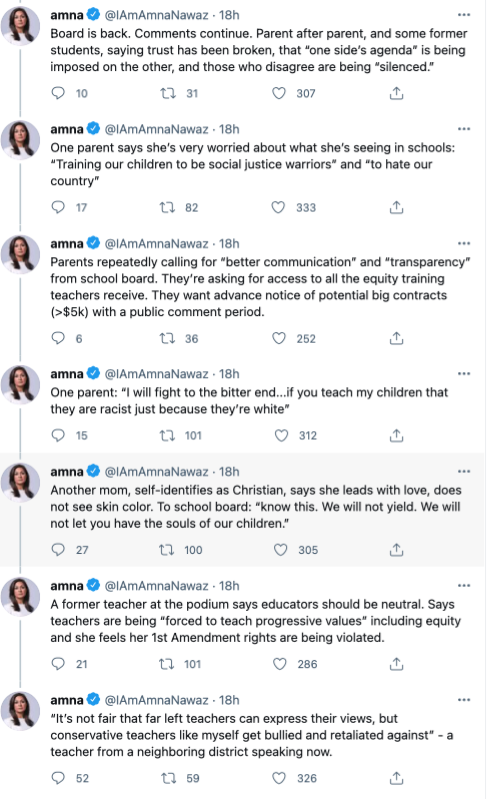 Stay tuned to Media Right News for any updates.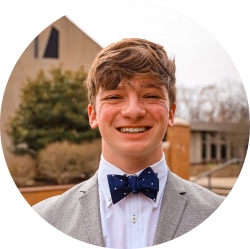 Latest posts by Paul Aubert
(see all)